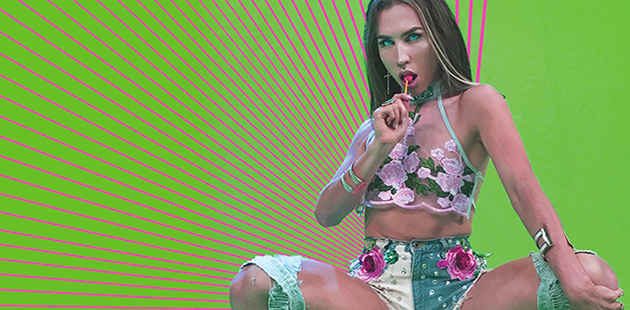 Transporting clubbers to a Vogue dancefloor born from the living history of New York's underground Ballroom scene, Sydney Gay and Lesbian Mardi Gras and Red Bull Music collaborate to bring Sissy Ball to life for one night only on Saturday 24 February at Carriageworks.
Curated by Sydney-based interdisciplinary artist Bhenji Ra, expressions of identity become the focal point as bodies collide in the ultimate Vogue throwdown of style, precision, and attitude in a showcase set to transfix. Extravagance on the runway will be matched with a soundtrack that weaves through disco, house, bounce, pop, performance and much more.
Originating from New York in the 1960s, voguing is a style of modern dance, form of self-expression and powerful movement that became a representation for the socio-political struggles of the LGBTQI+ community. Its rise in popularity coincided with a time where queer youth were experiencing rejection from the traditional family home and alternative families – known as houses – were forged.
These houses became pertinent to the vogue scene, as they offered a place of support and provided training and expertise to house members who desired to compete in balls. These balls were core to the underground dance scene as they were a safe space where houses and participants could come together to showcase individuality, agility and style; with rewarded trophies, prize money, bravado and expressive freedom.
"These houses represent what it means to be able to choose your family; they stand for sisterhood and encapsulate the acceptance at the core of the vogue scene," said Bhenji Ra, House Mother, Slé. "Houses provide their members with the support and guidance it takes to survive in this world as LGBTQI person of colour."
Next year, Sydney will host the city's biggest vogue ball to date, with entrants vying for the soon-to-be-announced judges attention and the accolade of winning house. Sissy Ball is excited to welcome four official houses and several free agent dancers (also known as 007s) from Asia-Pacific's vogue community to the stage; all set to compete in a series of soon to be announced categories. The competing houes are:
Slé (AU)
Led by house mother Bhenji Ra, Slé is a Western Sydney based house whose members belong to the greater Asia-Pacific Diaspora. Bhenji is a club icon and multidisciplinary artist who has created works for MCA and Asia-Pacific Triennale, and performed alongside the likes of Mykki Blanco and Le1f.
Fafswag (NZ)
Led by House Mother TAMATOA, Fafswag is one of Auckland's most esteemed houses. For the past five years Fafswag has supported the LGBQTI+ arts community in Auckland and wider New Zealand, by regularly providing and claiming inclusive spaces through performance and collective-led art events alongside their own semi-regular balls like DISRUPTION and SOFT & BLUNT.
Coven (NZ)
Hailing from New Zealand and led by mother Mistress Supreme, Coven is a fresh new house on the Asia-Pacific Vogue circuit.
House of Envy (NZ)
Formerly house mother of Fafswag, Jaycee Baby's newest house is set to impress. With strong ties to Auckland's Vogue Scene Jaycee is a renowned writer, dancer, choreographer and youth worker involved with community development and engagement.
Sissy Ball will be soundtracked by soon-to-be-announced artists and DJs who'll weave disco, house, bounce, pop and performance throughout the evening, as the houses, voguers, dancers and clubbers alike party together for a night of style, performance and dance.
Sissy Ball
Carriageworks, 245 Wilson Street, Eveleigh
Event: Saturday 24 February 2018 – 5.00pm till late
Bookings: www.carriageworks.com.au
For more information, visit: www.mardigras.org.au for details.
Image: Bhenji Ra (supplied)
Note: "The term "sissy" is used amongst Asian and Pacific queer communities as a term of endearment and sisterhood. The reason why i chose this is because it's definitely a term widely used amongst the younger generation of queer people of colour and there's a global understanding of reclaiming it as a positive affirmation opposed to its slur history."  – Bhenji Ra