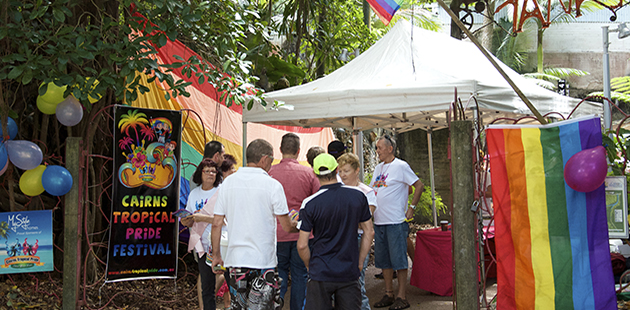 Show your Love in Paradise! is the catch cry of Cairns Tropical Pride's fabulous far northern festival, which runs 1 – 11 October 2015. Tropical Mardi Gras is the new name of the nine year old festival – now the largest Pride festival in Northern Australia.
An extensive program of events takes in the thriving cultural and social life of the Cairns' LGBT community, and also introduces visitors to the delights of two World Heritage environments, all in a rainbow family friendly, party atmosphere.
Tropical Mardi Gras launches on Thursday 1 October with a Rainbow Rave for LGBT youth and The Love Boat Launch Party for sea faring party people. Over 18s and under can equally enjoy entertainment, great beats and fabulous company at the opening events for our inaugural Tropical Mardi Gras.
Special guest artist, international burlesque star Glitta Supernova, will perform her one woman show Let's Get Metaphysical for Tropical Mardi Gras on Friday 2 and Saturday 3 October. The adults-only 'sex clown' cabaret will run at the Centre of Contemporary Arts, Abbott St Cairns.
The parties continue through the opening weekend with our Island Idyll – a tropical island party day on Saturday 3 October, the Splash! Pool Party and After Party on Sunday 4 October, and the Beached As Recovery Party on Monday 5 October.
Starry Gaze Cinema in the beautiful Cairns Botanic Gardens screens on Tuesday 6 October, inviting LGBT folk and friends to gather on the lawns amidst the lush tropical foliage, chill out and enjoy the wonderful English film, Pride.
Wednesday 7 October brings the Love Makes A Family Picnic – an event for rainbow families and supporters to show their love right on Cairns' famous esplanade. Yummy organic snacks, games for kids and their grown-ups, and a pride ride by the sea, all under the team equal rainbow banner.
Passion IV Fashion kicks off activities on Friday 9 October, showing the styles of Cairns' premier designers in the gorgeous waterfront locale the Salt House. Meanwhile, in a secret hill top location, the wild women of the north and their southern sisters will be celebrating Tropical Mardi Gras in style at the Proud Women's Dance.
On Saturday 10 October, swim with the locals in our gorgeous Crystal Cascades. A chilled out Saturday afternoon in a freshwater, croc-free, rainforest waterhole, complete with waterfalls and astonishing butterflies. Plenty of hot rocks for sunbaking, sandy banks for the kids, and cool deep swimming spaces for the grown-ups.
Saturday evening sees the launch of Gaze – a three week long exhibition of LGBT visual arts, showing some of the tropical north's best loved artists, and featuring special guest Deborah Kelly, and the first ever Cairns showing of the gay arts icon David McDiarmid. After 9pm, party animals can take in a drag show by LUXE at the intimate 12 Bar Blue.
Sunday 11 October is Tropical Mardi Gras' Fair Day – a rainbow family fun day for LGBT folk and their friends, with fabulous entertainment all day, drag races, the Bitch and Butch Dog Show, a Variety Hour, Cairns' own ExDRAGavanza, aerial performers, circus workshops, face painting, balloon twisting, food, drink, and Jelly Wrestling! Enjoy plenty of chances to meet and mingle under the sun, all in the superb surrounds of the Tanks Arts Centre.
"If you are on team equal, then you are welcome at our events," says Tropical Mardi Gras Festival Director, Zelda Grimshaw. "While Australia is dragging its feet on marriage equality, the community are running full steam ahead – we just need our governments to catch up! We know we have many supporters in the 'straight' world, and now is a great time to show your support."
"Tropical Mardi Gras invites all LGBT+ people, along with their friends and families, to show their love in paradise. Let's be out and proud on the Great Barrier Reef, in the Daintree Rainforest, on the Esplanade, in the Botanic Gardens, in the pool and on the beach. Dance, swim, snorkel, dive, explore, escape, chill, cuddle, dance some more and Show Your Love in Paradise!"
The 2015 Tropical Mardi Gras Festival runs 1 – 11 October. For more information, visit: www.tropicalmardigras.org for details.
Image: Fair Day