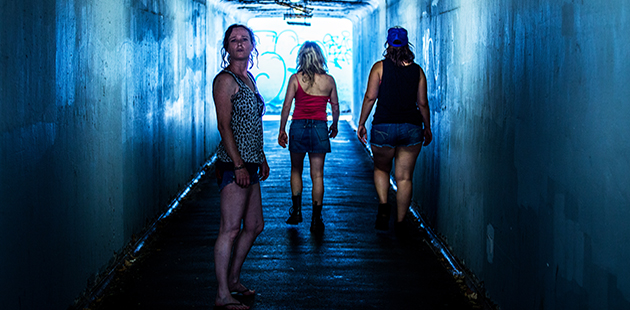 fortyfivedownstairs is proud to present a rare double bill of Australian revivals this June, celebrating their rich relationship with Playwright Patricia Cornelius (whose plays Do not go gentle… and Savages premiered at fortyfivedownstairs) and Director Susie Dee (whose many fortyfivedownstairs productions include Savages, The Long Pigs and This is Eden).
The double bill opens with the return of SHIT – the Green Room Award winning production that premiered in 2015 as part of the Melbourne Theatre Company's NEON festival. SHIT was subsequently produced by fortyfivedownstairs and has since been programmed at the Sydney Festival, Seymour Centre, Darwin Festival and HotHouse Theatre (Albury / Wodonga). SHIT is paired with a new production of LOVE, directed by Dee for the first time.
It's been an incredible year for Dee and Cornelius, with Dee awarded the Fringe Festival's Living Legend Award in 2018, and Cornelius recently receiving both the prestigious international Windham Campbell prize worth over $200,000, and the Green Room Award for Lifetime Achievement.
After a 30-year vibrant collaboration, Dee and Cornelius are also thrilled to be the first Australians programmed as part of the Venice Biennale theatre program, where LOVE and SHIT will be presented from 27 – 29 July 2019. Following the Venice Biennale, SHIT will have its United Kingdom premiere at the Edinburgh Festival Fringe: 2 – 26 August 2019.
"It's a great thrill for us to see these raw Australian works revived at fortyfivedownstairs before taking them to Venice and Edinburgh," says Dee and Cornelius. "They're powerful, timely and carry a magnificent punch."
A tough and vital play about three women at their most vulnerable, audacious and dangerous in a world that has forsaken them, SHIT is unsentimental, at times hilarious, and unashamedly provides a voice to women who are disregarded by society. SHIT reunites cast members Peta Brady, Sarah Ward and Nicci Wilks, winner of the Green Room Award for Best Ensemble.
A searing investigation into the notion of love by its very unloved and unlovable characters, LOVE uses hard-hitting, grungy poeticism to tell stories about the disenfranchised. This explosive incarnation will feature a new cast including Ben Nichols and two young First Nations actors, Carly Sheppard and Tahlee Fereday.
"We're incredibly proud of our ongoing relationship with these two remarkable theatre-makers," says fortyfivedownstairs Artistic Director Mary Lou Jelbart. "Producing this double bill not only represents our commitment to their work, but to providing a much-needed platform for Melbourne's independent artists to present new and revived Australian work."
SHIT:
Director: Susie Dee Featuring: Peta Brady, Sarah Ward, Nicci Wilks Set and Costume Designer: Marg Horwell Lighting Designer: Rachel Burke Touring Relight and Production Manager: Andy Turner Sound Designer: Anna Liebzeit Stage Manager: Bec Moore Writer: Patricia Cornelius
LOVE:
Director: Susie Dee Featuring: Tahlee Fereday, Benjamin Nichol, Carly Sheppard Set and Costume Designer: Marg Horwell Lighting Designer and Production Manager: Andy Turner Sound Designer: Anna Liebzeit Stage Manager: Bec Moore Writer: Patricia Cornelius
---
SHIT / LOVE
fortyfivedownstairs, 45 Flinders Lane, Melbourne
Season continues to 9 June 2019
Information and Bookings: www.fortyfivedownstairs.com
Image: Peta Brady, Nicci Wilks and Sarah Ward feature in SHIT– photo by Sebastian Bourges