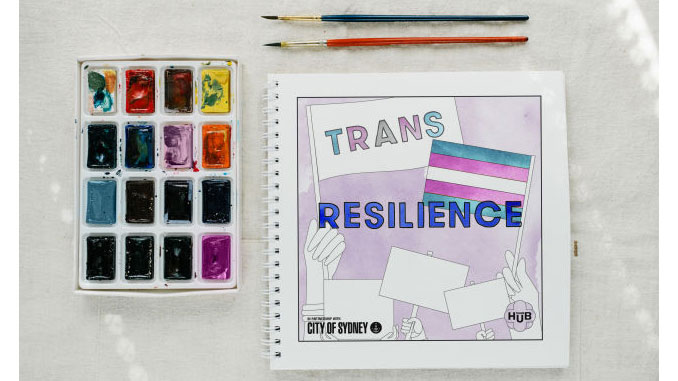 The City of Sydney is partnering with TransHub and ACON to create a virtual museum that features artefacts, photographs, artworks, clothing, letters, notes and more, shared by trans people in NSW.
TransHub's new virtual museum of transology will house artefacts including community artworks. As part of the project, a new online art gallery will continue to grow and encourage contributions from the public throughout the year.
Trans people are invited to share their A4 artwork. Curators will follow up relevant information about the piece. The project aims to use the gallery to mark Trans Day of Remembrance and Trans Awareness Week in November.
You can focus on art that builds awareness, and/or remembers the trans people we've lost. The project is seeking artwork on one of four themes: Affirmation, Community, Remembrance, and Resilience. Contributions can be:
an original artwork, in any medium
a letter, story, or poem
a collage of your own artistic elements or photographs
colouring in or artistically interpreting one of our templates.
---
For more information and to submit an artwork, visit: www.transhub.org.au for details. Artworks need to be submitted by Saturday 20 November 2021.
Image: Resilience – courtesy of City of Sydney