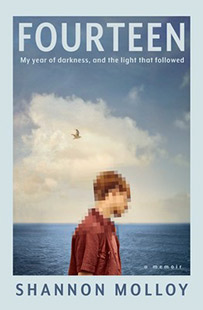 This generation's Holding the Man, Shannon Molloy's Fourteen is a moving coming-of-age memoir about a young man's search for identity and acceptance in the most unforgiving and hostile of places: high school.
This extraordinary memoir focuses on the turning point in his life, his fourteenth year of life as a gay kid at an all-boys sports-mad Catholic school in country Queensland.
It was a year in which he started to discover who he was, and deeply hated what was revealed. It was a year in which he had his first crush and first devastating heartbreak.
It was a year of torment, bullying, torture and betrayal – not just at the hands of his peers, but by adults who were meant to protect him. And it was a year that almost, tragically, ended too soon.
He found solace in writing and his budding journalism; in a close-knit group of friends, all growing up too quickly together; and in the fierce protection of family and his mother's unconditional love. These were the moments of light that shone like beacons in the darkness.
But it was the golden ticket of an overseas exchange program to New York City that truly saved his life, opening up a world where difference could not just be endured but celebrated. As much as Fourteen is a chronicle of the enormous struggle and adversity Molloy navigated, and the shocking consequences of it all, it's also a tale of survival.
"I love this book … a beautifully written account of a young man struggling with his sexuality, overcoming shocking abuse and finding his way to pride. Couldn't put it down." – Peter FitzSimons, bestselling author
---
Shannon Molloy is an award-winning journalist with more than a decade of experience working for major media outlets spanning print and digital, covering business, entertainment, celebrity and human interest. He has reported on issues ranging from negative gearing to youth mental health, and has interviewed Jane Fonda, Neil Patrick Harris and Drew Barrymore as an entertainment reporter. He is based in Sydney.
---
Fourteen is published by Simon & Schuster and is available from all leading book sellers including Dymocks.
Image: Fourteen – courtesy of Simon & Schuster