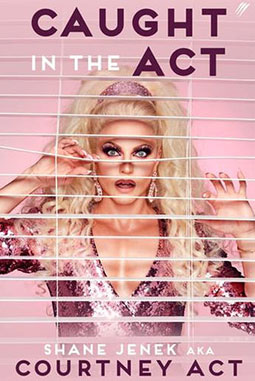 Boy, girl, artist, advocate. Courtney is more than the sum of her parts.
Meet Shane Jenek. Raised in the Brisbane suburbs by loving parents, Shane realises from a young age that he's not like all the other boys.
He finds his tribe at a performing arts agency, where he discovers his passion for song, dance and performance. Shane makes a promise to himself- to find a bigger stage.
Meet Courtney Act. Born in Sydney around the turn of the millennium, Courtney makes her name in the gay bars of Oxford Street and then on Australian Idol.
Over ten years later, she makes star turns on RuPaul's Drag Race and Celebrity Big Brother UK, bringing her unique take on drag and gender to the world.
Behind this rise to national and global fame is a story of searching for and finding oneself. Told with Courtney's trademark candour and wit, Caught in the Act is about our journey towards understanding gender, sexuality and identity. It's an often hilarious and at times heartbreaking memoir from a beloved drag and entertainment icon. Most of all, it's a bloody good time.
Shane Jenek aka Courtney Act is a drag artist, singer, advocate and cultural provocateur. She has appeared on reality TV in Australia and overseas, including her breakout in 2003 on the first season of Australian Idol; making the Top 3 on RuPaul's Drag Race Season 6; and taking the UK by storm on Celebrity Big Brother, which she won. When Courtney isn't busy being glamorous on TV and stage, she's a boy from Brisbane called Shane Jenek.
As a gender-fluid, queer person, Courtney uses her public profile to educate audiences on issues such as gender identity, sexuality, marriage equality, anti-racism and more. As a singer-songwriter she has released a pop EP and entertained audiences in her cabaret shows throughout the world. She currently splits her time following Pride parades and chasing summer between London, Los Angeles and Sydney.
"Glorious, heartfelt, passionate and inspirational – a glamorous frock-filled adventure that explores the full fluidity of Shane's boundless bravery, love and humanity." – Osher Günsberg
"Courtney is a true star. I'm so thrilled with this book and its beautiful, powerful storytelling." – Carlotta
---
Caught in the Act is published by Pantera Press and available from all leading book retailers including Booktopia.
Image: Caught in the Act – courtesy of Pantera Press