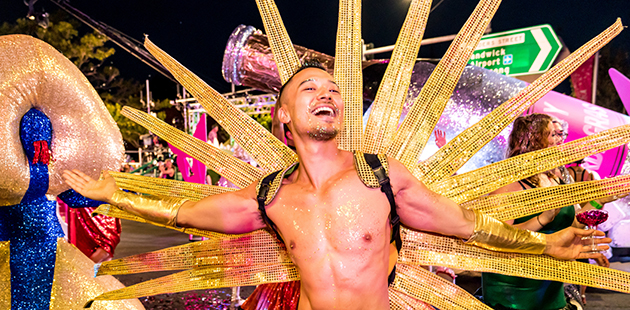 Sydney Gay and Lesbian Mardi Gras and supporting partner Google have announced the recipients of the third annual SGLMG Community Parade Grants Program.
The Mardi Gras Community Parade Grants Program is designed to fund and support a diverse range of community ideas and provide grants to individuals, community groups and not-for-profit groups to help lift their parade entries to a completely new artistic level. A total of $66,000 in grants has been divided among 24 applicants from all over Australia (view list below).
"Sydney Mardi Gras identified that many sections of our community need support to participate in the annual Mardi Gras Parade; its take a huge amount of time, people and money to create an amazing Parade entry and it's important that our parade is accessible to all," said Sydney Gay and Lesbian Mardi Gras CEO Terese Casu.
"With the support of Google, and through our own philanthropic fundraising, we've been able to provide hundreds of thousands of dollars in grants to LGBTQI non-profit and community organisations in this program over the past three years."
"From a stunning Rainbow Thylacine by the only community-run LGBTIQA organization in Launceston, to The Institute of Many's passionate celebration of fearless love, the recipients of these grants each have a powerful message that we're looking forward to seeing on Parade night."
Google's Tea Uglow added "Mardi Gras is only as awesome as the people it represents. We are delighted that for a third year Google can help grass-roots LGBTQIA communities amplify the epic (and sparkle) of their Mardi Gras floats. Google proudly affirms and supports LGBTQIA people and their allies and we're excited to continue our partnership with the Sydney Gay and Lesbian Mardi Gras."
The Mardi Gras Parade is Sydney Gay and Lesbian Mardi Gras' flagship event attracting more than 12,000 participants. It is the largest LGBTQI parade of its kind in the world. To view the 2019 Parade Running Order, click here.
The 2019 Mardi Gras Parade takes place along Oxford and Flinders Streets on Saturday 2 March. For more information, visit: www.mardigras.org.au for details.
Image: 2018 Mardi Gras Parade – photo by Jeffrey Feng Photography
---
The 2019 SGLMG Community Parade Grants Program Recipients are:
Aboriginal Project ACON
We service the LGBTIQA+ Aboriginal and Torres Strait Islander Community across NSW, providing holistic health services. Our message for the audience is education. We are the oldest thriving culture, a culture of acceptance and love. We will be showcasing our leaders within the Aboriginal and Torres Strait Islander LBGTI community. Leaders who had no choice but to be fearless in paving the way for us younger mob.
Australia New Zealand Gynaecological Oncology Group
The peak national gynaecological cancer research organisation. Our consumers, members & donors are from the LGBTQI+ community. Save the Box is our theme. It is about raising awareness about gynaecological cancer. It is never talked about and women are dying. It is time to break the silence and take some action. Save the Box is about shouting it from the roof tops. Don't be embarrassed or fearful to talk about your lady parts. Talking about signs and symptoms with friends and Dr's could save your life!
Bentstix Hockey Club Inc
Bentstix was established in 1996 during the Mardi Gras festival as a network of like-minded players – growing to become one of the largest and most successful LGBTQI hockey clubs, with over 80 active members. Parade theme: Fearless Champions. We are Fearless on the field – we play hard and wear our rainbow socks with pride in leagues across Sydney. We have experienced homophobic abuse on and off the field but are Champions in our game (with medals) plus won Gold at the 2018 World Gay Games, Gold at the 2017 World OutGames.
Bi+ Visibility
Bi+ Visibility is a partnership between Bi+ orgs around the nation, aimed to build community, fight bi-phobia and bi-erasure and address the significant mental health issues our community face. #Bseen – Bisexuals are ready to 'Be seen!' Bisexuality is real, Bi+ belongs in the parade & to the Bi+ community watching – Our primary goal within the parade is to show bisexual+ individuals around the nation that they are represented, included and valued members of the LGBTIQ+ community. We want to show bi+ identifying people watching from the crowd or sitting at home who may have never met another bi+ identifying person, who may be experiencing bi-phobia, bi-erasure or discrimination based on their sexual orientation – that we are real, we are here and there is a huge community out there here to support them.
Different Strokes Dragon Boat Club      
We aim to provide a social & fitness-focused sporting outlet for the LGBTQ community, friends, family and supporters. Our club's strongest asset is our team spirit with over 100 members. "We will be creating a circus theme with all the different characters to show our diversity, this will be lead by Part lioness, part dragon tamer, our parade lead is a gorgeous creature who will crack the whip. Supported by our figureheads all inspired by animals from the Chinese Zodiac." Fearless Freakshow – We want to show that we are fearless on the water and fearlessly fabulous off it. We will celebrate the diversity in our club with the characters you get at the circus.
Diversity Launceston
Diversity Launceston is the only active community-run, not for profit organisation in Launceston. We run events to provide the LGBTIQA community opportunities to meet and form connections. Our float celebrates the Tasmanians who campaigned tirelessly in their efforts to decriminalise homosexuality in Tasmania, and we pay homage to them through the recreation of the Rainbow Thylacine. Diversity wants to encourage Tasmania's LGBTIQ community to continue to live and love Fearlessly.
FOBGAYS+
We are a grassroots community network of friends and family of brown (South Asian) gay, lesbian, bisexual and queer+ identifying people. Our theme is Fearless Together. We want to celebrate and showcase the diversity of all our South Asian cultural identities. We will march as a procession of animals found throughout the jungles of different South Asian countries, wearing traditional South Asian clothes and textiles. Our marchers from all parts of South Asian will show that while we are made up of diverse communities and cultures, together we are strong and fearless in our support of queer people and rights.
freegaynhappy
FGNHAPPY started in 2004 and we aimed to support those in the LGBTQI+ who struggled to find their place in the community. It was created to give people a safe and loving family. The theme is unicorns and the float is called mirror mirror. We want to tackle people's perceptions of themselves and others We will do this by creating a scene where everyone is dressed as a unicorn and looking into a big mirror and seeing how spectacularly special and magical they are.
Harbour City Wrestling Club
We are a not-for-profit LGBTIQ and straight friendly wrestling club based in Kings Cross.  Majority of the club members are a part of the LGBTIQ community. The theme is The Wrestlers of Oz – which is a take on The Wizard of Oz. The message is that we are wrestlers of different, shapes, sizes, genders and sexuality from Sydney and our sister club in Melbourne. The Citizens of Oz are fearlessly taking on the Flying Monkeys in a battle for the Emerald City including a few LGBTIQ asylum seekers marching for the first time.
NSW Trans Youth Alliance
A Facebook group of nearly 200 trans young people and allies mostly aged from 16 to 22. The Theme is Trans and Proud – Trans is Beautiful. Many of these kids have had to be fearless to come out and be themselves. For many of them it also taken courage to march and show themselves to the world.
Party Passport
Our float is for LGBTQIA+ people from the Northern Territory & their supporters. It is run by Party Passport, a queer-owned & run, NT based events company. Our events celebrate diversity & inclusion. Our theme: Red Hot Territory – Firey, Fearless, Fabulous – "you can be who you are, wherever you are." Our goal is to promote visibility for rural and remote LGBTQIA+ people and giving NT presence on the international stage of Mardi Gras.
People with Disability Australia
PWDA has recently engaged LGBTQIA+ people through a Disability Support Organisation (DSO) that encouraged peer groups to come together to discuss the issues facing LGBTQIA+ people with disability. The need for accessible transport is our key message so that people can access the LGBTQIA+ community & events, removing feelings of isolation, dehumanisation and frustration. The fearless express will also promote the freedom to express our sexuality in a fearless manner. As people with disability (PWD), we will be fearless in the way we protest for human rights and access to transport. Moreover, like the LGBTQIA+ community, PWD will face daily attitudinal challenges.
R U OK?
R U OK?'s mission is to inspire everyone to meaningfully connect with people around them and support anyone struggling with life. We continue to encourage support in the LGBTQI community. Fearless Friends – They give strength to others when they need it most.  Our marchers will represent the diversity of these friends – they come from all walks of life, but are ready and willing to be there for their loved ones.  We will celebrate our Fearless Friends – they're courageous, not afraid to step up and start what can be a difficult conversation when someone's going through a tough time.
Renny Roccon – Wonder Mama and the Fearless Rainbow Super-Queeroes
We are a small group of LGBT friends who have entered the parade the last few years. We like to think our entries reflect fun and vibrancy of the parade and appeals to the fun aspect of Mardi Gras. Wonder Mama and the Fearless Rainbow Super-Queeroes represent the colours of the Rainbow flag and are the Defenders of Love and Equality. Each Super Queero will represent each colour of the flag and will be led by Wonder Mama! As Super Queeroes and Defenders of Love and Equality we believe we represent the fearlessness of our community in fighting for, and maintaining equality for all members of our community.
Rumba Latina
Rumba Latina was created in 2016, founded by Rosa Doyle, a Colombian who fell in love with Australia 5 years ago. Since then our group has been performing in several multicultural festivals and parades. Rumba Latina performs multiple dance routines to Latin rhythms in festivals such as Moomba Festival, Bondi Latin festival, Johnston Street festival and many more across both Sydney and Melbourne. We are a diverse group with different backgrounds, cultures, and views but with the same passion, dancing! Rumba Latina has LGBTQI dancers, who have brought great flair, passion, and creativity to the group. Our LGBTQI dancers have shown us how important and liberating it is to express ourselves in our performances. As a result, we feel a connection to the LGBTQI community of Sydney, and see Mardi Gras as the perfect opportunity for our dancers to support and promote LGBTQI rights with our own parade float!
Sydney Dance Company
Australia's foremost contemporary dance company since 1969. A diverse and inclusive organisation for fifty years, engaging the LGBTQI+ community with artists, staff, audiences and participants. 2019 marks Sydney Dance Company's 50th anniversary. A heritage born through a notably diverse alumni of artists, management and community. A renowned cultural leader, SDC celebrates Fifty Fearless Golden Years of including the LGBTQI+ community through progressive works and activities for audiences nationally and internationally.
Team Sydney Inc
Team Sydney promotes sport, fitness & healthy lifestyles among Sydney's LGBTIQ organisations.  We help connect & promote over 30 member organisations, representing thousands of individual sportspeople. The theme for the parade entry is Making A Splash. The key message is the promotion of sport including our network on member sports clubs. To make a splash means your actions are causing ripples through the water. You are facing your fears and pushing through the barriers as out and proud LGBTIQ athletes.
The Institute of Many
We are a totally unfunded, independent, grassroots, movement for people living with HIV, with the largest membership of any HIV org. in Australia. The majority of our members are LGBTQI. TIM will celebrate the breakthrough message of Undetectable = Untransmittable (U=U). Our retro sci-fi' themed float inspires people to consider a changing paradigm of HIV in the 21st century. Science now tells us that an undetectable viral load means we cannot transmit HIV to our sexual partners. We are celebrating the future of HIV that people with HIV who have an undetectable viral load can be fearless when making love and loving other people and also love themselves fearlessly.
The Oz Fag Hags
We're a group of people who transgress the boundaries between gay & straight culture. Our relationship is based on empathy between two groups who seek positive change in the community. Exercise Your Rights! We are reminding Australians that while people are still being discriminated against based on sexual orientation, gender identity, or HIV status, you need to get out there and exercise your rights. Our theme encourages everyone to Exercise their Rights to ensure that all people of the LGBTQI+ community can live openly without discrimination and enjoy personal autonomy, and freedom of expression.
The Star Observer
The Star Observer is Australia's longest running LGBTI media organisation, setting the LGBTI agenda since 1979. We have over 500,000 loyal readers who embrace our publications. Our theme is 40 years (our 40th birthday in 2019) of fearless reporting and journalism for the LGBTI community. Your news, your stories. The Star Observer has fearlessly reported news for the LGBTI community and has set the agenda for the LGBTI community, for the past 40 years.
The Students of the National Institute of Dramatic Art
NIDA is a conservatoire that promotes expression of upcoming storytellers. We intend to celebrate the experiences of the LGBTQI+ community within our student body and employees. Our theme is Storytellers of the Future, Learning and Teaching on Bedegal Land. We believe that to be able to tell the stories of the LGBTQIA+ community we need to be fearless in our approach. It is only through this fearlessness that we can be truthful and respectful.
Trikone Australasia
We are an organisation for GLBTIQ South Asians living in Australia. We offer a supportive and empowering environment for people to promote awareness and acceptance of their sexuality. The theme of our parade is freedom. Only 2 of the 12 South Asian countries (India and Nepal) do not or no longer have homosexuality listed as a criminal offence. The float will showcase the recent decriminalization in India and that there is still much to be done in many South Asian countries. Freedom and decriminalizing of homosexuality in South Asian countries will come about from the FEARLESS few who make a voice and fight for justice.
Wett Ones Swimming Club
Wett Ones Swim Club is an inclusive, competitive and social swimming club for the gay and lesbian community and our friends in Sydney, called a family by members who range in age from 20s to 70s. Themed swimlikeagirl – our float is dedicated to increasing the participation of lesbian, bisexual, transgender and cisgender women in swimming who make up only 20% of swimmers. We will reclaim the meaning of the phrase and show the audience that female swimmers are fearless, courageous and strong. "We honour the fearless females who won 28 medals at the 2018 Gay Games & swimmer Kay Gravell who won 8 gold medals while having cancer in her spine, lungs and liver, just one month before she died."
Women In AFL
AFL Without Agenda – AFL is not about gender, sexuality or differences; it is about inclusion and the collective. There are occasions of individual brilliance on the field although the majority of the game is driven by teamwork. To women in AFL, to be fearless, means to take action. Challenging misconceptions, challenging barriers to equality, challenging agendas and challenging approaches to women's sport.