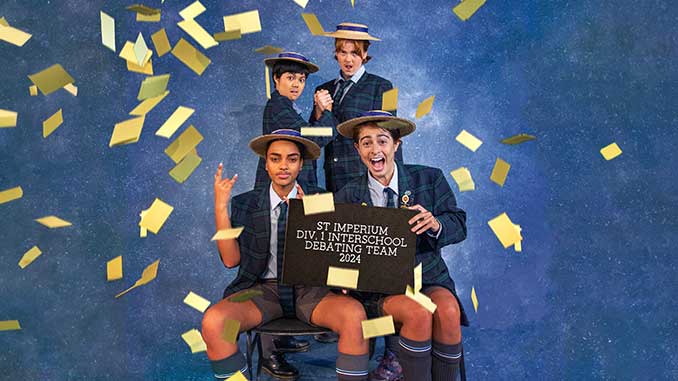 Featuring a set of five outstanding, must-see events presented in partnership with some of Sydney's most ambitious independent theatre companies, the Seymour Centre has announced its 2024 season.
Opening the year in April, Outhouse Theatre Co. returns with the much-anticipated Australian premiere of A Case for the Existence of God by Samuel D. Hunter (The Whale). Awarded Best Play in 2022 by New York Drama Critic's Circle, it is a heart-wrenching, compassionate and achingly funny exploration of empathy that investigates the connection between two very different men, both experiencing a hostile and divided world.
In June comes a new Australian play by Soft Tread, Trophy Boys. Heralded as "a revelation" by The Age, Trophy Boys is a queer black comedy and drag extravaganza about power, privilege, and high school debating. Using a winning combination of satire and camp, it interrogates the well-documented toxic masculinity, misogyny and homophobia of our elite private boys' schools, and their prevalence in the backgrounds of those holding the highest offices in the country.
Fresh from the Galway International Arts Festival and a smash hit run at St Anne's Warehouse in New York, Enda Walsh's new dystopian drama Arlington will make its Sydney premiere in August. From the writer of Once, this performance is a wild fusion of story, physicality, and technical wizardry.
In September, WildThingProduction presents the first major Sydney revival of Seventeen by Matthew Whittet (Squabbalogic's The Dismissal). Seventeen tells the story of a group of high school students, experiencing something we all remember well, the last day of school – for ever.
Through a fog of stolen alcohol, six teenagers gather in a playground late at night to share the moment in their lives when the past gives way to an uncertain future, and where secrets are spilled, and friendships are changed. But in a revelatory theatrical twist, all roles are performed by older actors who were seventeen many years ago, bringing the experience of age to the dreams of hopeful youths.
Rounding out the season in November, Seymour welcomes Sugary Rum Productions to present Matthew Lopez's epic play, The Inheritance. This epic reimagining of E.M Forster's Howards End is a contemporary portrait of New York's Gay community.
Following hit seasons on the West End and Broadway, four Tony and four Olivier Awards including Best Play, this two-part epic makes its Sydney premiere at the Seymour Centre. Directed by Shane Anthony (Anatomy of a Suicide) and starring a massive cast of thirteen, this sexy, funny, and sharply political play will be spoken about long after the curtains close for 2024.
"In a time where our world is experiencing significant turmoil, it's more important than ever for the performing arts to be marked by deep relevance to our times. Theatre needs to explore big questions in the most artful and entertaining ways and Seymour's 2024 season does just that," said Seymour Centre's Artistic Director, Tim Jones.
---
Seymour Centre's 2024 season shows are available in a variety of multipacks. For more information, visit: www.seymourcentre.com for details.
Image: A Case for the Existence of God (supplied)