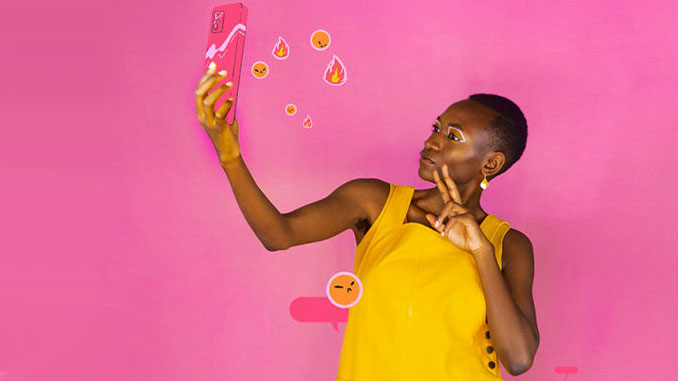 The provocative seven methods of killing kylie jenner lights up La Boite Theatre from 24 February to 12 March 2022 following its sold-out Australian premiere in April 2021 and an encore Sydney season in January 2022.
A powerful and razor-sharp two-woman show, seven methods of killing kylie jenner dives deep into the dark waters of colourism and the commodification of Black women.
Tensions rise between best friends Cleo and Kara as they argue about the success of the titular influencer as a supposed "self-made billionaire."
Written by first-time playwright Jasmine Lee-Jones and co-directed by proud Bardi, Jabirr Jabirr woman Shari Sebbens and Australian actress and musician Zindzi Okenyo, the show stars Moreblessing Maturure as Cleo and Iolanthe as Kara.
La Boite Theatre presents this co-production between Darlinghurst Theatre Company and Green Door Theatre where it staged its sold-out Australian premiere season in April 2021.
La Boite CEO and Executive Director Zohar Spatz is thrilled to open La Boite's 2022 season with seven methods of killing kylie jenner and bring this work to audiences in Queensland.
"It feels incredibly important for La Boite to reflect on all the reasons why we make theatre and the stories that we want to tell on our stage," said Ms Spatz.
"seven methods of killing kylie jenner is daring and divisive in how it challenges colonial archetypes and its critique of the way women of colour are represented in social media."
"Cleo and Kara's friendship provides an ideal vehicle for dissecting issues around race, sex, identity, politics and class in a very contemporary, albeit volatile, setting," said Ms Spatz.
Combining theatre with GIFs, memes and emojis, the play explores stereotypes of Black womanhood, white capitalist exploitation and the politics of social media activism.
La Boite has engaged a vibrant talent pool of actors, writers, directors and designers with women of colour lending their necessary voices and talents to the production.
seven methods of killing kylie jenner made its stage debut in the UK in 2019, was nominated for a prestigious Olivier Award and Ms Lee-Jones was awarded the Critics' Circle Theatre Award for Most Promising Playwright.
---
seven methods of killing kylie jenner
The Roundhouse Theatre, 6 – 8 Musk Avenue, Kelvin Grove
Season: 26 February – 12 March 2022 (previews: 24 – 25 February)
Information and Bookings: www.laboite.com.au
seven methods of killing kylie jenner continues at the Darlinghurst Theatre Company (Eternity Playhouse) 39 Burton Street, Darlinghurst until 20 February 2022.
Image: Moreblessing Maturure – photo by Teniola Komolafe