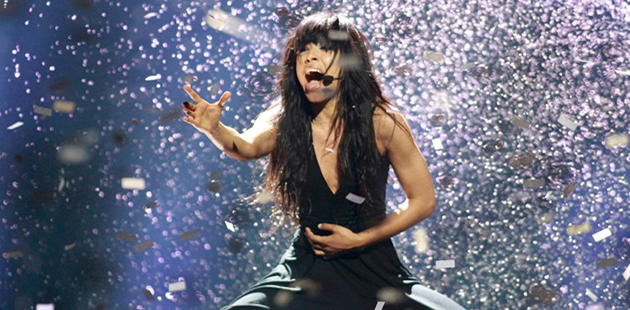 In his acceptance speech for the 2017 Eurovision Song Contest, Portuguese winner Salvador Sobral issued a controversial call to arms to "bring music back" to a place of meaning and feeling:
We live in a world of disposable music; fast-food music without any content. I think this could be a victory for music with people who make music that actually means something. Music is not fireworks; music is feeling.
It was a bold statement to make at a contest known – and loved – for its trashy Europop as much as it is for its heartfelt ethno-folk ballads or its diva swan songs. Eurovision music is diverse, encompassing both fast food and feelings. Over the years, it has developed its own sound and even its own genres.
The classics
The late Lys Assia's Refrain, the winning song of the inaugural Eurovision in 1956, best encapsulates the chanson style that dominated the contest for its first decade. Literally French for "song", the term is used to describe any lyric-driven French song, but a song being in French does not immediately make it a chanson.
This year's entrant from Madame Monsieur, Mercy, is contemporary electro pop that shares more with the pop music that superseded chanson after the 1960s. Many today would describe the chanson as old-fashioned, although others suggest it is a timeless genre. Although sung in Portuguese, Sobral's Amar Pelos Dois from 2017 recalls this style.
The canzone is the Italian iteration of the chanson, exemplified by the iconic Nel blu dipinto di blu by Domenico Modugno in 1958. Many would better know this song as Volare as covered by Dean Martin.
The hits
If the chanson dominated the 1950s and 1960s, schlager was undoubtedly the driving force from the 1970s until the early 2000s, when it integrated with Eurodisco and Eurodance. Although the term may not be familiar unless slurring your beer order, the style itself is perhaps the most recognisable to even the most casual Eurovision viewer.
The origins of schlager are German, but forms of it can be found around Europe and are even recognisable in some American pop music. Meaning a "musical hit", schlager refers to light pop music featuring catchy instrumentals and sentimental, usually non-political lyrics.
Nicole won the prize for Germany in 1982 with Ein bißchen Frieden, while Germany's last winner in 2010, Lena's effervescent Satellite, is a quirky take on the schlager tradition.
Schlager itself is arguably less prominent at the contest in recent years, but we can see elements of it, fused with dance and folk elements, in DoReDos' 2018 entry My Lucky Day for Moldova.
The traditional
The fusion of different musical styles, especially traditional elements with contemporary trends, is one of the most appealing aspects of Eurovision as it presents international viewers with something different to the pop standard.
Ethno-folk fusions rose in popularity in the 1990s, arguably when "world music" caught on as a global trend from the late 1980s. From Celtic-inspired ballads to bellydancing beats, every year is replete with examples of this.
Sanja Ili? and Balkanika, representing Serbia in 2018 with Nova Deca, have made it their mission to both preserve and modernise Balkan musical traditions. The song combines the Torlakian dialect of southeastern Serbia with standard Serbian, fusing traditional vocals and flute with contemporary singing and a dance beat. Everyone's favourite folk entry of recent years is undoubtedly the Russian grannies of 2012.
The niche
As an event aimed at a family gathered around the modern hearth of the television, music with a more general appeal has been the standard for much of the contest's history. Until, of course, Finnish heavy metal demon rockers Lordi surprised us all with their victory in 2006, Hard Rock Hallelujah.
Traditionally, rock does not fare well at Eurovision, so best of luck to Hungary's AWS with Viszlát Nyár this year, which might draw in a few different punters with its reminiscence of Linkin Park's oeuvre.
The mega-pop
On the other end of the spectrum is Scandi-pop. Just as most of your favourite hits over the past 20 years have been written by one Swedish mastermind writer/producer (Max Martin, who has written everything from Britney Spears' One More Time to Taylor Swift's Bad Blood), Swedish songwriters dominate Eurovision, spruiking their wares across the continent.
For example, this year's Maltese entry, Taboo, sung by Christabelle, was written by none other than Thomas G:son, who penned everyone's (well, OK, my) favourite winner from the past ten years, Euphoria by Loreen.
The one to watch this year, however, is Finland's more congenial answer to Lady Gaga, Saara Aalto. (Although she won't be singing it in the contest, her 34-language version of her entry Monsters is worth a listen.)
Time for a toilet break?
Our final category can cross all musical genres: the ballad. Broadly defined as a slow-tempo song (known by some as the toilet-break songs), the ballad can dampen the party mood pretty quickly, so it is the song type that everyone loves to hate (but also secretly love).
According to number-crunching fan site ESC Daily, ballads usually account for about 40% of entries each year. Time your toilet breaks well, for there are fewer this year than last year and those that remain each offer something a little different.
Iceland's Ari Ólafsson and Germany's Michael Schulte provide more traditional ballads, but Portugal's Cláudia Pascoal and Isaura and Latvia's Laura Rizzotto provide unique contemporary styling on the slow-tempo song. Also, don't miss Elina Nechayeva's operatic La Forza.
The diversity of musical styles this year is great – a veritable food court of choices from fast food to fine dining. Sadly, however, there is no rap yodelling on the menu …
---
The 2018 Eurovision Grand Final will be broadcast on SBS on Sunday 13 May 2018.
---
'Schlager', Scandi-pop and sparkles: your guide to the musical styles of Eurovision
Jess Carniel, Senior Lecturer in Humanities, University of Southern Queensland
This article was originally published on The Conversation. Read the original article.
Image: Loreen wins the 2012 Eurovision Song Contest with Euphoria