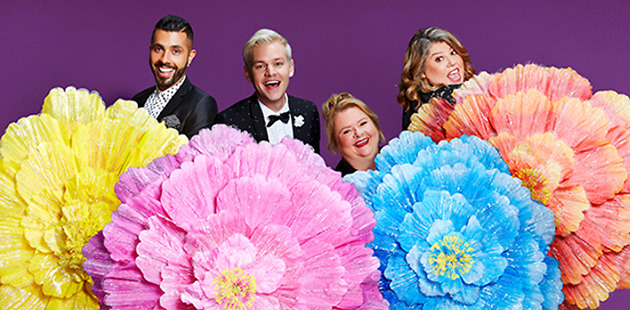 In celebration of the Sydney Gay and Lesbian Mardi Gras's 40th anniversary, SBS brings a special, glitter-filled broadcast of the event to living rooms across the nation on Sunday 4 March 2018.
Fresh off the back of an epic year for the LGBTIQ+ community, actress and equality activist Magda Szubanski, comedian Joel Creasey and The Feed's Patrick Abboud are joined by comedian and television personality Urzila Carlson to host coverage of the event.
"Mardi Gras is a spectacular celebration of equality, pride and self-expression that promotes a broader message of diversity and acceptance," said Magda. "I'm so proud to be hosting for SBS again in 2018  -after a year of monumental change in Australia. Bring on the glitter cannons!"
"I'm so thrilled to be hosting the broadcast of the 40th anniversary of the Sydney Gay and Lesbian Mardi Gras," said Creasey. "As a gay man, (you're shocked, I know) Mardi Gras is a chance for all members of our community and beyond to come together and celebrate all things LGBTIQ+ and all things fabulous. I am particularly stoked to be working alongside Magda, Urzila and Patrick – a dream team if I've ever seen one! Strap up, strap on and strap in, Australia!"
The Sydney Gay and Lesbian Mardi Gras is one of the world's largest and most high profile LGBTIQ+ celebrations. Having started as a civil rights protest in 1978, Mardi Gras has grown into an opportunity to celebrate diversity, equality, inclusion and pride on a global scale.
Following last year's historic same-sex marriage vote, this year's Mardi Gras will be a celebration of how far the LGBTIQ+ communities and their allies have come in the last 40 years, as well as a reflection on the community's hopes for the future.
The television broadcast will feature the best and brightest floats and costumes in the parade, interviews with special guest and celebrities including international music icon Cher, commentary from Magda Szubanski and Joel Creasey, as well as on the ground coverage from Urzila Carlson.
"I'm so excited for 2018 and for our community," said Carlson. "Not only do we have marriage equality but it's also the 40th birthday for Mardi Gras. My leather is polished, my tassels are fluffed – who knows I might even wear heels! (Just kidding, no heels). Get your fab on Sydney!"
The Feed's Patrick Abboud will present a series of stories which introduces us to parade participants, the people and special meanings behind the floats, and the stories of Mardi Gras marchers– including the 78'ers who pioneered this global event 40 years ago.
"This year, more than ever before, it's so important that we are celebrating those unsung heroes that have fought the good fight for equality over the past four decades," said Abboud. "I'm looking forward to taking you on a walk down memory lane during the broadcast with a special series of stories I'm working on. Happy 40th birthday queer family!"
A live stream of the parade will be available on SBS On Demand and the SBS Twitter account on Saturday 3 March. SBS Radio 3 will join forces with Australia's premier gay and lesbian community radio station, JOY 94.9 for a Mardi Gras weekend simulcast, which can be accessed via the SBS Radio mobile app, digital radio and around Australia on digital television.
"The Sydney Gay and Lesbian Mardi Gras is an iconic Australian event," said SBS Director of Television and Online Content, Marshall Heald. "It celebrates the triumphs of the LGBTIQ+ communities whilst promoting the universal messages of unity, inclusion and acceptance – values that are relevant to all Australians. It is an opportunity to celebrate diversity and SBS is truly proud to offer viewers a front row seat to the 40th Anniversary event."
For more information about SBS's coverage of the 2018 Sydney Gay and Lesbian Mardi Gras, visit: www.sbs.com.au for details.
Image: Patrick Abboud, Joel Creasey, Magda Szubanski and Urzila Carlson – courtesy of SBS