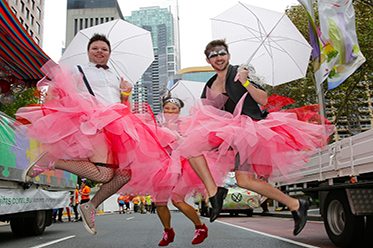 SBS have announced it has secured the Australian television broadcast rights to the 36th annual Sydney Gay and Lesbian Mardi Gras, to air exclusively on SBS 2 in March 2014.
A global beacon of pride and inclusion, Sydney Gay and Lesbian Mardi Gras is one of the world's largest and most-loved LGBTQI celebrations, providing an opportunity to commemorate a universal message of diversity and equal rights.
SBS 2 will celebrate the magic of Sydney Gay and Lesbian Mardi Gras in a special event broadcast on Sunday March 2 at 8.30pm. This will be the first time Sydney Gay and Lesbian Mardi Gras has been broadcast on free-to-air television in 12 years and will showcase the best of the parade capturing the spectacular floats and outrageous costumes.
"Sydney Gay and Lesbian Mardi Gras is an iconic Australian cultural event, which celebrates diversity, said SBS Managing Director Michael Ebeid.
"In bringing this year's event free-to-air to all Australians, SBS is delivering on its purpose to encourage all Australians to understand, appreciate and celebrate diversity and in doing so, contributing to social cohesion."
"SBS strives to act as a catalyst to encourage national conversations about social inclusion and we're thrilled to have Mardi Gras as part of our programming line-up for 2014."
Based on the creative concept of 'kaleidoscope', this year's three-week Mardi Gras festival will offer an array of free and ticketed events including fabulous parties; world-class cabaret, theatre and musical performances; premiere film screenings; all-inclusive community, social and youth events; interactive panel discussions; and unforgettable art exhibitions.
Hosts for the SBS 2 broadcast and more details on SBS programming around the event will be announced in the coming weeks.
Image: Mardi Gras Pre-Parade 2013 – by Anne Marie Calilhanna