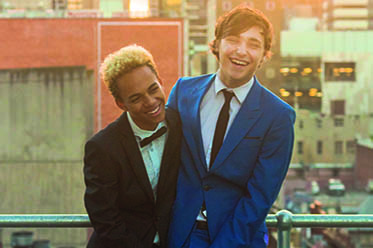 Australia's Same Sex Formal will headline as part of National Youth Week 2014, giving gay, lesbian, bisexual and transgender (LGBT) youth a safe place to be themselves, with more than 500 young people expected to attend the event at St Kilda Town Hall, being hosted by LGBT youth charity Minus18.
The Same Sex Formal began in 2010 in response to the high numbers of gay, lesbian, bisexual and transgender (LGBT) youth who are not allowed to, or uncomfortable taking their same sex partners to their high school formals.
"With the most recent research indicating that 16 per cent of LGBT young people have attempted suicide due to homophobia and transphobia, the need for more inclusive services and safe spaces for LGBT young people is at an all time high," said Micah Scott, Minus18 General Manager.
"Last year, the Same Sex Formal gave me the chance to take my girlfriend to a formal event – something I wasn't comfortable doing at my school. It was a life changing night." – Jessica, Student 18
As part of the event, Minus18 are calling on community members to sponsor tickets for LGBT youth to attend the event. Each one of the sponsored tickets, which are $40 each and tax-deductible, will be given directly to an LGBT young person who would otherwise not be able to afford to attend.
Minus18 are hoping to cover the costs of at least 250 tickets – allowing half the students to attend free of charge. To make a tax-deductible ticket donation, visit: www.chuffed.org/project/samesex
For more information about the Same Sex Formal, visit: www.minus18.org.au for details.
Image: courtesy of Minus 18