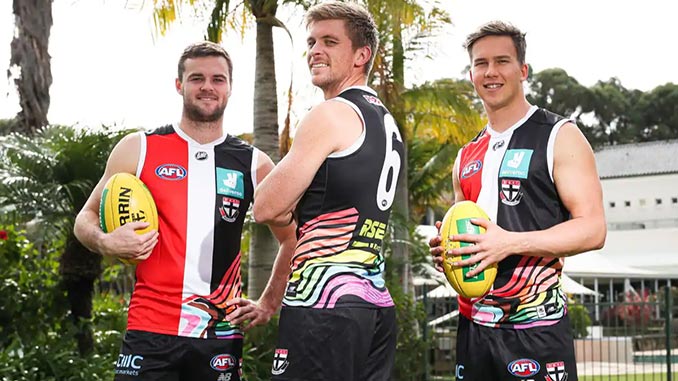 It will be red, white, black and everything in between in Round 21, with the Saints launching the 2021 Pride guernsey today.
The guernsey celebrates the journey of diversity and community and was designed following extensive consultation with the LGBTQIA+ community and key club stakeholders, including St Kilda players.
"We are thrilled to launch this year's Pride guernsey to recognise and celebrate the progress that has been made since the inception of Pride Cup at a local level and Pride Game in the AFL," said St Kilda CEO Matt Finnis. "Having a guernsey where the colours of Pride intersect with the colours of our club is really special for us."
From one game in the gateway to the Yarra Valley, to more than 270 games across the country, Pride Cup and its AFL counterpart Pride Game has come a long way in seven years.
The front of the guernsey features the modern-day Pride flag, which includes colours to represent the trans, Indigenous and persons of colour communities, as well as the traditional rainbow.
This element is key to demonstrating the intersectionality of the LGBTQIA+ community and other minority communities and the importance of them in the St Kilda family.
The rainbow continues onto the back of the guernsey, with the colours branching upward to illustrate the club's continual growth and room for further progression. Within the individual colours, names of organisations which have hosted Pride Cup events are featured, starting with the first one in Yarra Glen in 2014.
Since starting with Australian Rules Football, Pride Cup events have now taken place in several sporting codes right across the country.
"Research has shown us that hosting events such as Pride Game have had a tangible impact on the LGBTQIA+ community and how they feel they fit into the AFL landscape," said Finnis.
"While we don't know yet if we'll be able to have crowds at this year's game, I'm sure the Saints faithful will be celebrating wherever they are."
---
The 2021 St Kilda Pride guernsey, as well as a limited edition scarf and beanie, are now available for purchase at www.shop.saints.com.au. For more information about the Pride Round, visit: www.saints.com.au for details.
Image: Brad Crouch, Sebastian Ross and Jack Bytel model the 2021 St Kilda Pride guernsey – photo by Corey Scicluna
Source: www.saints.com.au