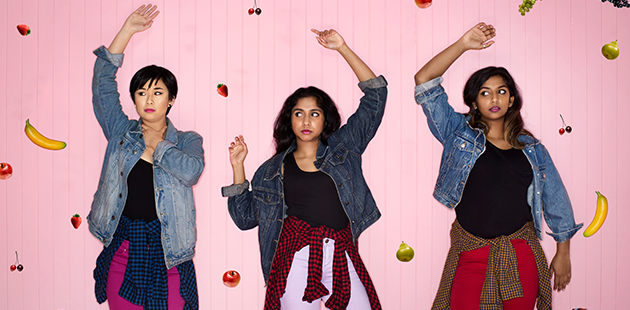 A more sophisticated than an your average mod-rom-com, Romeo is Not the Only Fruit takes the star-crossed lovers audiences know and love, and makes them better as star-crossed lesbians at The Butterfly Club from 15 November as part of the 2017 Poppy Seed Theatre Festival.
Featuring a Dead Lesbian Chorus and some pretty gay songs, Romeo is Not the Only Fruit is a fun, campy, politically irreverent and casually incisive musical romp.
Writer, director and lyricist Jean Tong explains that the creative team are young, queer and want to party while opening up pathways into shifting the state of representation as it currently stands, "It's 2017 and the world is still telling the same, tired old story about queer people of colour and our access to spaces," says Tong.
"Whether on the news or on Netflix, we're still watching ourselves die for someone else's happiness, someone else's comfort. Romeo is Not the Only Fruit  is a tongue-in-cheek, fist-in-air response to this, because we're pissed off, charming, hilarious and write catchy songs."
As a political satire with a meet-cute, cultural clash, sex, death and a dastardly plan, Romeo is Not the Only Fruit is a whirlwind journey with tropes that have never been seen before, featuring lesbians galore, a spicy score and an even spicier ending.
Playwright, Director and Lyricist: Jean Tong Featuring: Sasha Chong, Nisha Joseph, Margot Tanjutco, Pallavi Waghmode, Louisa Wall Composer and Sound Designer: James Gales Dramaturge: Kim Ho Musical Director and Composition Support: Will Hannagan Set and Costume Designer: James Lew Production Manager: Miguel Lontoc Stage Manager: Ayu Maylinda Directorial Support: Petra Kalive and Bridget Balodis Producer: Stephanie Bowie Liew
Romeo is Not the Only Fruit
The Butterfly Club, 5 Carson Place, Melbourne
Season: 15 – 26 November 2017 (preview: 14 November)
Bookings: www.thebutterflyclub.com
For more information, visit: www.poppyseedfestival.com for details.
Image: Sasha Chong, Nisha Joseph and Pallavi Waghmode feature in Romeo is Not the Only Fruit (supplied)