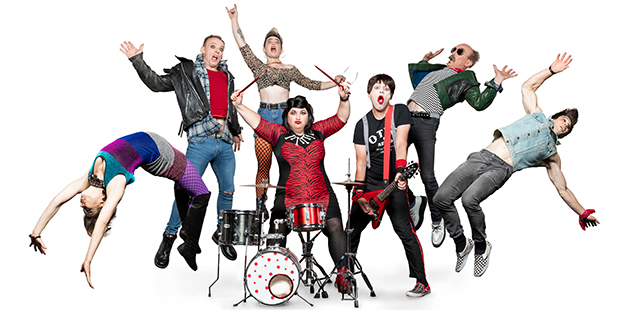 Rounding out their 40th year, Circus Oz has co-created an original hilarious rock'n'roll extravaganza – Rock Bang – with Otto & Astrid from the (self-proclaimed) best band in the world: Die Roten Punkte in a world premiere season at The Coopers Malthouse from 16 November 2018, before heading to Parramatta's Riverside Theatres from 10 January 2019.
Rock Bang is a circus rock opera – it's an energetic concoction and spectacle that shows off some extremely pliable acrobatics with one of the most solid and infamous musical duos ever created.
"We are so thrilled to finally premiere this exclusive season of Rock Bang – a riotous hard-rocking Circus Oz explosion detonated by Otto & Astrid," says Circus Oz Artistic Director, Rob Tannion. "It combines loud rock music, big speakers, unapologetic circus skills and tricks, alongside plenty of stupidity and laughter."
Part rock concert, part side-splitting comedy and smashed together with acrobatic punk anarchy, Rock Bang is a sensory feast of heart stopping stunts, physical ridiculousness, soaring guitars, thumping drums and contagious tunes.
Utterly dysfunctional siblings Otto & Astrid attempt to tell their fantastical life story as orphans and growing up in artist filled squats to become the darlings of Berlin's underground rock scene. Distracted and inspired by the extraordinary bendy feats of the Circus Oz acrobats, Otto & Astrid quickly descend into squabbling, throwing rehearsed circus routines and songs into spectacular chaos.
"We've been waiting our whole lives to make a rock opera with our songs and Circus Oz have helped us to take this dream to a whole new level with the bendiest people in Australia!" said Otto & Astrid.
Premiering this November at The Coopers Malthouse, this exclusive Rock Bang world premiere season will feature a full ensemble of 12 of Melbourne's most multi talented artists, musicians, designers and makers, before being adapted to a touring show for five artists.
Director: Rob Tannion Featuring: April Dawson, Alyssa Moore, Kyle Raftery, Matt Wilson, Robbie Curtis, Rockie Stone Dramaturgy & Musical Direction: Casey Bennetto Musicians: Casey Bennetto, Dean Matters, Shannon Bourne, Tamara Murphy Creative Consultant: Nicci Wilks Set Adaptation: Anna Tregloan Costume Design: Laurel Frank Lighting Design: Richard Vabre Shadow Puppetry Design: Lynne Kent Stage Manager: Anna Pidgeon
---
Rock Bang
Merlyn Theatre – The Coopers Malthouse, 113 Sturt Street, Southbank
Season: 16 – 25 November 2018 (preview: 15 November)
Bookings: www.malthousetheatre.com.au
Lennox Theatre – Riverside Theatres, Corner Church and Market Streets, Parramatta
Season: 10 – 13 January 2019
Bookings: www.riversideparramatta.com.au
For more information, visit: www.circusoz.com for details.
Image: April Dawson, Kyle Raftery, Rockie Stone, Astrid Rot, Otto Rot, Matt Wilson and Robbie Curtis feature in Rock Bang – photo by Andrew Wuttke