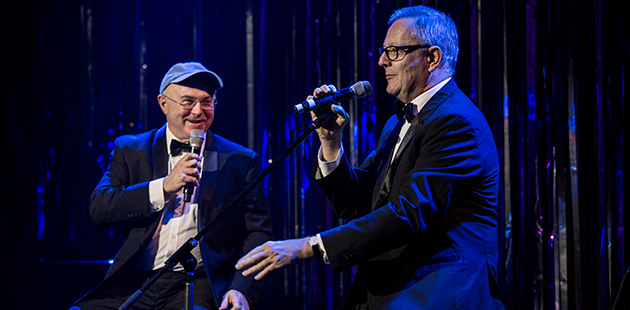 A show that finally gives mature white men the voice they have never had, Riverside Theatres Digital will present The Wharf Revue's Jonathan Biggins and Phil Scott in No Cabaret for Old Men, streaming to audiences' homes in a one-show only live performance from Riverside Theatres in Parramatta on Sunday 7 June 2020.
Direct from its premiere at the 2019 Sydney Cabaret Festival, and updated during lockdown, join Biggins and Scott as they give a veritable masterclass in cabaret – with neither the mastery nor class. Together, these lightly-seasoned performers examine the many strands of the cabaret art form – Audition Cabaret, Name-Drop Cabaret, Weimar, Broadway, Political, and the ever-popular "Rehash Some Old Material During the Lockdown."
Aside from their Wharf Revue fame, which has made them a household word from Casula to Nunawading, Jonathan Biggins is well known as a performer, playwright, director, host and satirist. Phil Scott is a writer, actor, pianist and composer, who won awards for his solo cabaret performance in Reviewing the Situation, and co-wrote many shows with Trevor Ashley, including Fat Swan, The Bodybag and The Lyin' Queen.
The team at Riverside Theatres have worked hard to create Riverside Theatres Digital, a brand-new unique viewing experience, ensuring audiences can stay connected and entertained over this time. The concerts will be fully live multi-camera events, streaming live from Riverside Theatres into your home. This concert will be available once only on YouTube.
No Cabaret for Old Men will be presented on Sunday 7 June 2020 at 5.00pm. The performance has a "Choose what you pay" ticketing option with a minimum ticket price of only $12. For more information, visit: www.riversideparramatta.com.au for details.
Image: Phil Scott and Jonathan Biggins – photo by John McRae