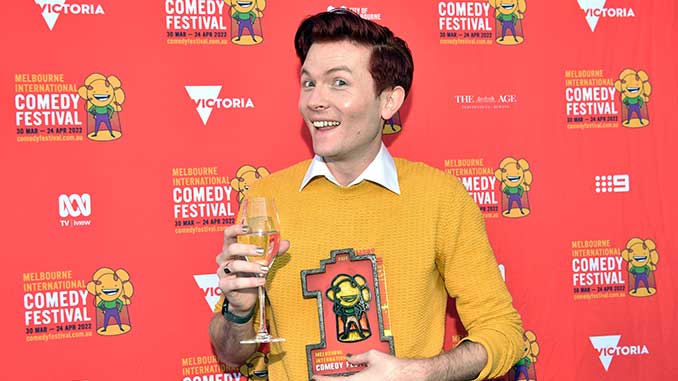 On the final Saturday of the 2022 Melbourne International Comedy Festival, the Australian comedy industry came together to celebrate the highlights of this year's Festival.
After 25 days, hundreds of sold out shows, and despite the challenges that COVID posed, the Festival brought laughter back to the stages and crowds back to the streets of Melbourne with the average night-time activity near Town Hall measured at 99% of pre-COVID levels (*).
Hosted by Joel Creasey at Transit Rooftop Bar at Fed Square the nominees were joined by special guests and past winners including 2021 winner Geraldine Hickey, presenting the 2022 Award for Most Outstanding Show, Festival Director, Susan Provan AO who presented the Directors' Choice Award, David Quirk presenting the Golden Gibbo and Greg Larsen presenting the Piece of Wood.
The 2022 Melbourne International Comedy Festival Awards Winners are:
Most Outstanding Show:
Winner: Rhys Nicholson – Rhys! Rhys! Rhys!
Nominees: Aaron Chen – If Weren't Filmed, Nobody Would Believe | Cameron James – Electric Dreams | Danielle Walker – Nostalgia | Geraldine Quinn – Broad |Greg Larsen – We All Have Bloody Thoughts | Laura Davis – If This Is It
Best Newcomer Award:
Winner: Frankie McNair – Relax Your Knees
Nominees: Bronwyn Kuss – Any Goss? | Mish Wittrup – Soy Fat White | Steph Broadbridge – Hot Chick/Tired Mum | Sunanda – Sunanda Loves Britney | Will McKenna – Appellation
The Best Newcomer is awarded to a solo performer or group of performers doing their first Festival show.
People's Choice Award:
Winner: Urzila Carlson – It's Personal
For the most popular show of the Festival, as determined by the ticket buying public.
Directors' Choice Award:
Winner: Wil Anderson – Wilogical | Bronwyn Kuss – Any Goss?
The Directors' Choice is awarded by the Melbourne International Comedy Festival Director in consultation with festival programming colleagues to a show they think deserves to be celebrated was shared by two comedians at very different career stages.
The Golden Gibbo:
Winner: Alex Hines – To Schapelle And Back
Nominees: Mel & Sam – Shit-Wrecked! | Maria Angelico – The Disappearing Act | Geraldine Quinn – Broad | Ashley Apap – Ouch! | Aiden Willcox – Lightly Familiar | Ross Purdy – Hey Hey It's Doomsday
The Golden Gibbo is awarded in memory of the late, great Lynda Gibson to a local, independent show that pursues the artists' idea more than it pursues commercial gain.
The Pinder Prize:
Danielle Walker – Nostalgia
The Pinder Prize honours Festival co-founder John Pinder, and supporting a performer to travel to the Edinburgh Festival Fringe.
The Piece of Wood:
Tina Del Twist
The Piece of Wood is the comics' choice award, selected by past winners and presented to a peer literally for "doin' good stuff 'n' that".
The Festival greatly acknowledges the Victorian Government through Creative Victoria and Visit Victoria, for their support, which was instrumental in bringing this much-loved Festival back to Melbourne at significant scale and encouraging audiences out and back to live events.
---
The Melbourne International Comedy Festival ends today (Sunday 24 April). For more information and to buy tickets, visit: www.comedyfestival.com.au for details.
Image: Rhys Nicholson – photo by Jim Lee
Note: (*) Measured by the City of Melbourne between Monday 11 April to Sunday 17 April 2022