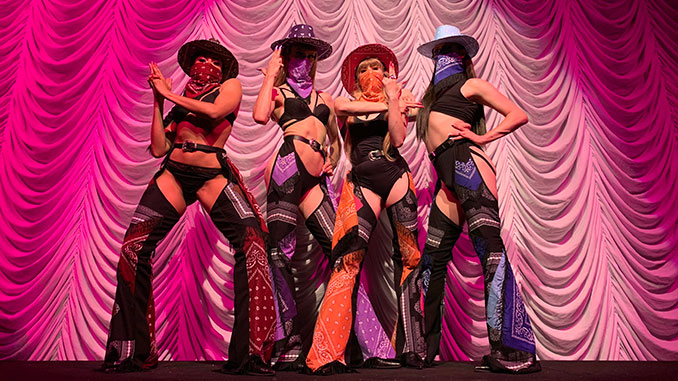 YUMMY: How To Make A Western has all the glitz and glam of the group's previous work but the glitter soon gives way to reveal a troupe of talented artists resting on their laurels.
On a well lit stage with cheeky cut outs doubling for a set the trope of the Western is slowly unpacked – all the cliches and the blatant racism is cleverly inverted and ripped apart with a hearty dollop of wit and sass.
Tiwi drag superstar Foxxy Empire is the work's immaculate narrator – leading the audience through the saloon doors and opening their eyes to the discourse bubbling underneath. It is through Foxxy that the audience first meets the colourful characters of Yummyville and the cut throat world they inhabit.
The production is sleek, with the work being masterfully crafted for film. The editing and cinematography is flawless, effortlessly gliding from act to act without ever compromising each artist's talent.
It is unfortunate however, that often each act starts strong but soon peters out, leaving the audience with little to hold their focus. Apart from the commanding presence of Aysha Buffet, many of the performers seemed to lack the energy or connection needed to really lift the work. The overall narrative started out strong but quickly lost its way, which did little to provide any overly cohesion.
In spite of the numerous hurdles that the pandemic and restrictions have put on artists over the past two years, the team have risen to the challenge and constructed a well styled, performed, filmed and edited work.
---
YUMMY: How To Make A Western
Melbourne Fringe Digital On Demand
Season continues to 17 October 2021
Information and Bookings: www.melbournefringe.com.au
Image: YUMMY: How To Make A Western – photo by James Welsby
Review: Gavin Roach