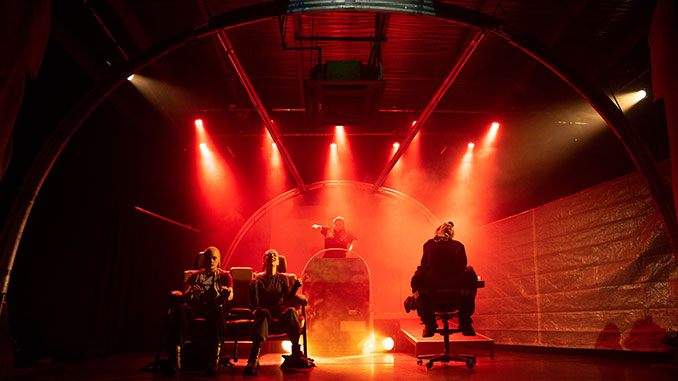 Some of the best science fiction I've seen was made for TV with sets made from cardboard. That's not to say that I don't like the blockbusters with SFX that blow our senses, but great sci-fi is about people who have everything to lose.
TURN, TURN, TURN by Keith Gow is sci-fi that creates the feeling of being caught in the endlessness of unimaginable space with a story about four people who don't trust each other but have to rely on each other to make impossible choices to survive.
Hon (Melanie Audrey) and Tee (Sodi Murphy-Shrives) need to run. NOW! They have been brought up to do this with all the physical, financial and scientific advantages that their world offers. But they are hiding secrets that would make them unsafe.
They get to a space freighter with its 2-person crew, Naz (Sarah Hartnell) and Elk (Ebden Rojter), who are also ready to flee and have only been trained to fly people like Hon and Tee away.
It's an unknown future where it's time to leave Earth Seven for Earth Eight. We don't know what's happened but learn the new societal rules and there's enough backstory to let the audience create their own believable scenario.
The trope of being stuck-in-a-space-ship-in-the-airless-void-of-space is given deeper relevance and importance because this group have to make a family together if they want to survive, and that their tin-can ship is all they have to make their home IF they arrive at Earth Eight.
This can only happen if they arrive before other escapees, if they secure a safe landing space, if they don't get caught by Rangers, if they follow or break the rules, and if they keep or share the secrets about their relationships and themselves.
Tom Brayshaw's design is as good as a carboard Dr Who set from the 1970s. A small stage is about as big as a ship and naturally feels contained and unescapable, while the writing lets us feel and see the danger and beauty of the vast blackness and stars we are hurtling through.
Director Renee Palmer ensures that even though it's sci-fi, it's always about humans who would be just as traumatised, terrified and brave if the situation were happening in a suburban backyard. They have to chose how and if to trust and the stakes of being unable to escape add layers of tension.
And everyone creates blockbuster-worthy SFX that evoke so many sci-fi tv shows.
Writer Keith Gow knows sci-fi and theatre. Sci-fi lovers (like me) know why this genre is so amazing and why it fails. It needs to be so much more than an imagined world. It has to be about us and about now and about why we want to know what lies beyond our limited understanding of ourselves.
TURN, TURN, TURN does all of this. While the plot turns and turns, there are puns and jokes that give breathing space in the building tension, and there's imagery that's pure theatre and beautiful writing.
Yet it's always about relationships and dilemmas and complex characters. As an audience, our loyalties move and change, but we are always holding onto the same hope that keeps this group flying towards their hope.
Theatre Works continue to support new local writing and seeing sci-fi in their black box space called the Explosives Factory (it used to be a fireworks factory) is as exciting and cool as being allowed to stay up late to watch Blakes Seven on the family TV. It's on until 23 September!
---
TURN, TURN, TURN
Theatre Works: Explosives Factory, Rear 67 Inkerman Street, St Kilda
Thursday 14 September 2023
Season continues to 23 September 2023
Information and Bookings: www.theatreworks.org.au
Image: Turn, Turn, Turn – photo by Phoebe Anne Taylor
Review: Anne-Marie Peard