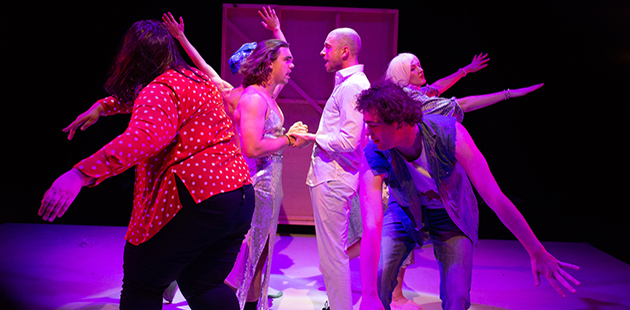 Camp theatre has always given its audience permission to laugh at even the darkest of subject matter and Truly Madly Britney allows its audience to do this in spades. From gun violence to celebrity obsession, infidelity to narcissism, parental neglect to cancer… yes even cancer, this production allows you, us, the audience, to gleefully laugh at it all.
The story begins with Steve and Adam, a couple traveling across America on a Britney Spears themed pilgrimage… well, Steve is on a pilgrimage, Adam (rigidly played by Nick Clarke) is not quite sure where, or even why, he is.
The adventure has been far from perfect, but none of this matters to Steve (played joyfully by Adam Garner) the only thing that matters to him is meeting his idol and basking in her presence. When an unforeseen schedule change throws Steve's dream into disarray, the audience meets the play's madcap crop of ensemble characters, and it is here that things really start to pop.
Chanella Macri shone in each of her roles. Each performance was varied and nuanced and utterly hilarious. Alex Thew was brilliantly cast as Chad and you can't help but root for him to win, even when he reaches his most psychotic. Louisa Wall is resplendent as Judy Schwarzburger, nailing the comic timing needed for the character while not out shining the rest of the ensemble.
Karl Richmond is the stand out of the play. He can do more with a mere glint in his eye or a side ways smirk, than most actors can do with pages of dialogue. His commitment to the part is second to none and his stage presence stands head and shoulders above some of the more lacklustre performers on stage.
The design team certainly had their work cut out for them and they delivered effortlessly – shifting from each scene with little regard for subtly or illusion. Nothing gets hidden in this play. For the most part the direction was seamless, however there were moments when actors dipped into a high school ensemble delivery to the audience or worse, when key moments of character development are denied from the audience view and directed upstage.
The play is let down quite a bit by the hollow nature of the venue. The dialogue is sucked out of the space and when an actors projection drops, even slightly, we lose much of what is said.
Alberto Di Troia's writing is slick and dripping with wit, he has carefully crafted each of these characters so they skip the line of cliche while allowing moments of real depth. Some scenes could do with a tightening but only gently, softly, so not to disturb those moments of spontaneous gold.
Special mention does have to be made to the two audience members behind me who were audibly disgusted by the hilariously well choreographed simulated sex scene between Adam and Steve. If, even after all this time, a scene like that repulses you, then you are definitely who this work is made for!
---
Truly Madly Britney
Theatre Works, Acland Street, St. Kilda
Performance: Sunday 27 January 2019 – 7.00pm
Season continues to 9 February 2019
Information and Bookings: www.midsumma.org.au or www.theatreworks.org.au
Image: Truly Madly Britney – photo by Lachlan Woods
Review: Gavin Roach