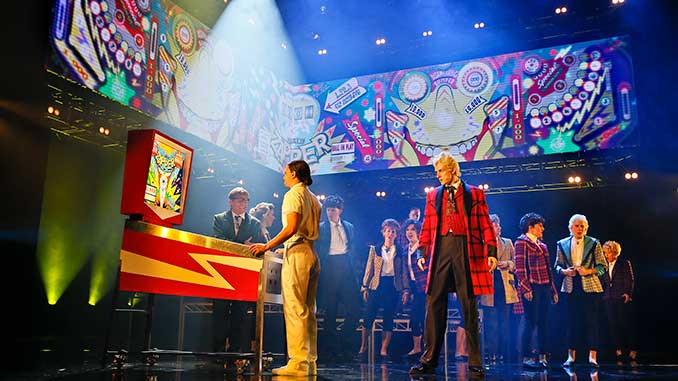 One thing was clear when arriving at St Kilda's iconic Palais Theatre for the opening night of Victorian Opera's twice pandemic-postponed The Who's Tommy. Together with the familiarity of the usual faces, I was amongst a cross section of the community who seemed to live for what has been a long winding road to an Australian premiere – those who knew the ins and outs of the 1960s rock band The Who and of guitarist and songwriter Pete Townshend's seminal 1968 concept album which eventually morphed into the 1992 musical in collaboration with director Des McAnuff.
Indeed, for me, The Who's Tommy ended with an appreciation of the company's idea that rock opera can be just as much a successful part of their quest as the centuries-old classics. Demonstrating enormous flexibility and skilful production qualities once again, Victorian Opera belongs to and embraces everyone.
In fact, reading the two-act synopsis reveals a story of both aching and enlightening operatic proportion. The young boy Tommy witnesses the shooting of his mother's partner by his father when, believed to have been missing in action, he returns from the Second World War.
Tommy becomes seemingly deaf, blind and mute, is later molested by his uncle and bullied as a youth before finding a connection with pinball that catapults him to stardom. Along the away, however, a miracle has cured his affliction and his rise to fame is reversed by disenchanted fans, after which Tommy turns back to his family and reunites with his younger self.
The Who's Tommy is a story of overcoming hardships, of self-protection, the price of fame and self-realisation. And it is artistically wrapped in a bold and crystalline production by director Roger Hodgman that elevates the work's embedded spiritual element as well as Tommy, always appearing in the brightest whites, as a messianic force.
Darker, more confronting aspects of Tommy's youth could surely have plucked emotional strings harder. Nevertheless, the swift momentum of a two-decade journey is keenly juxtaposed with strikingly variable moods and musical beats that effortlessly carry the narrative forward.
The music's strength is realised with great clarity and buzzing energy by Musical Director Jack Earle and his 7 band members, appropriately pride of place on a raised structure back of centre stage.
Peter Grubb's refined sound design provides well-accommodated balance with what is a brilliantly sung and dedicated cast. I did however even surprise myself by wanting more power from the many passages of pure unsung rock – you know, that expectation of the body to vibrate.
As both Narrator and Tommy, Mat Verevis oozes with charisma and hope, the shining antithesis of the psychological trauma his younger Tommy had endured. Agile in voice and movement, Verevis uses his excellently honed vocals to match the emotional moment with precision.
Verevis can also lay on the intensity of high decibel vocal flights and captures attention without stealing the scene and is supported particularly touchingly by both Hamilton Binnie Garcia's transfixed boy Tommy and Elijah Slavinskis as his menaced youth.
Amy Lehpamer feels ever-present as Tommy's mum, her glamorous air accompanied by genuine love and expressed concern. At tipping point when all hope seems lost for a cure, Lehpamer's Act 2 song Smash the Mirror shows the penetrating and affecting full-bodied weight of her instrument.
It also marvellously accentuates the turning point in Tommy's life in one of the highlight scenes as she hurls a chair at the mirrored armoire Tommy is standing in front of.
As Tommy's untiring cure-searching father, Captain Walker, Matt Hetherington is a commanding presence and gives rock music utterly sumptuous breadth and vigour. What is missing is that he doesn't get to sing as much as you would like.
Another theatrical asset, living effortlessly between opera, cabaret and musical, is Kanen Breen, who channels the persona of a British sitcom character as the creepy and exploitive Uncle Ernie. Acrobatic vocals, high kicks and antics colour his great entertaining Act 2 song Tommy's Holiday Camp deliciously, despite it feeling somewhat redundant in the scheme of things.
Firm-voiced Vincent Hooper gives a muscular performance as bullying Cousin Kevin and Paul Capsis is a swirling hit and a hoot as the tragic Acid Queen ridiculously referred to for healing.
The entire stage-filling ensemble contributes splendidly, highlighting Dana Jolly's thoroughly stunning choreography that conjures life with tastefully descriptive lines without showiness. That's left to Isaac Lummis' costumes, being start-to-finish eye-catching, heightened era-inspired creations.
Hodgman is expertly assisted by his entire team. Christina Smith's stage designs are well considered, relying chiefly on minimal furniture and props that are moved on and off expeditiously and video designer Jamie Clennett's overhead strip of changing references to place and situation.
And it turned out I knew one number, the vividly portrayed and punchy Pinball Wizard that now has context and that I most likely won't hear the last of because I'd even go back again. Or, at the very least, get under headphones listening to the 1968 source.
---
The Who's Tommy
Palais Theatre, Lower Esplanade, St Kilda
Performance: Tuesday 22 February 2022 – 7.30pm
Season continues to 1 March 2022
Information and Bookings: www.victorianopera.com.au
Image: Victorian Opera's 2022 production of The Who's Tommy – photo by Jeff Busby
Review: Paul Selar