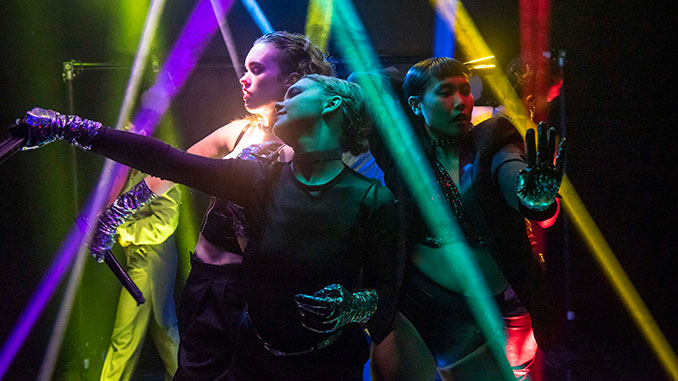 It is extremely cliche to say, but Symphonie Fantastique is exactly as the name suggests, an impressive symphony of fantastic colour, lights, movements and throbbing beats.
The Little Eggs Collective take a French Symphony from the 1800s and explores themes of violence, drugs, sex, sexuality and hallucinations through a Queer lens. It is refrshing to see a truly Queer peeformance work taking up pride of place in such a prominate venue on the Golden Mile.
Lloyd Allison-Young, Cassie Hamilton, Clare Hennessy, Annie Stafford, Nicole Pingon, Chemon Theys, and LJ Wilson make up the absolutely stellar ensemble. The raw energy buzzing from the performance space is palpable, these performers command the space and dare you to look away – which, when it comes to this work, is utterly impossible.
The ensemble moves as if breathing, coming together and peeling apart as the story unfolds. These performers have such an impressive array of talent – each adding to the sound, rhythm and tempo of the work. Each member effortlessly bounces from character to character, without even uttering more than a few words, or some none at all – with each displaying a stunning level of commitment and respect for the work and each other.
Mathew Lee's direction steers the ship perfectly through the rough waters of the work. The heavy and sometimes triggering themes are handled with grace and a respectful touch, but are certainly not shied away from. Lee makes some stunningly brilliant bold choices, managing to pack a rollercoaster of a story into an electric 45 minutes.
The work's lighting and sound design elevates the work to breathe taking heights. The lighting and set design are perfectly married to work in tandem to create a rich world from the darkness. The sound design blends the performers voices and a sparse use of recorded sounds to bring forth a rich and emotive symphony.
Symphonie Fantastique is a very welcome addition to the Queer theatre landscape and would be no doubt welcomed by audiences if, and fingers crossed when, it tours throughout Australia.
---
Symphonie Fantastique
Kings Cross Theatre. Level 2, Kings Cross Hotel, 244  -248 William Street, Kings Cross
Performance: Monday 22 February 2021
Season continues to 27 February 2021 (sold out)
Information: www.kingsxtheatre.com
Image: Symphonie Fantastique – photo by Patrick Boland
Review: Gavin Roach