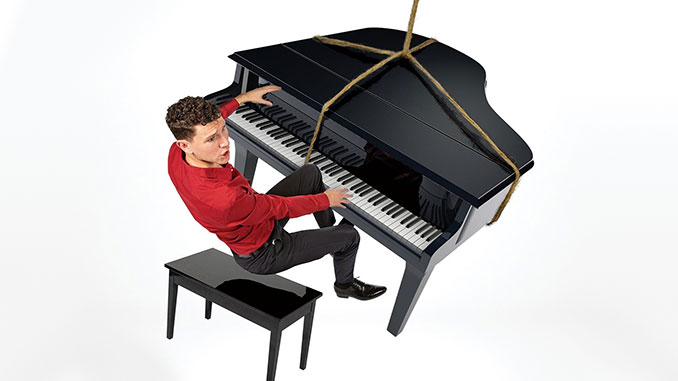 Sydney-sider Steven Kramer is a musician, composer, and producer, with diverse credits that include working with the Hayes Theatre Company since its founding in 2014. At Midsumma 2021, he reminds us of his talents as a cabaret performer, presenting "A love letter to the piano and those who play it" (with some limits!) in Don't Make Me Play Piano Man.
Back when he was Steven Kreamer at Midsumma 2019, Kramer made a pleasing cabaret debut in I Sing Songs. Unlike that offering, this new show is mostly covers. However, Kramer consistently found ways to put a new slant on familiar tunes.
The show skimmed jauntily across Kramer's musical history. We traversed the appeal of his grandmother's piano, to early exams, and playing a bogan wedding that featured an endurance event involving Daryl Braithwaite's Horses. We also come to understand the performer's reticence about playing Piano Man.
Kramer confided that, as he isn't famous enough to have a Wikipedia page, he must disseminate information about himself through cabaret. This willingness to poke fun at himself and share misadventures scored some satisfying laughs.
The selection of tunes ranged across Glenn Miller's In The Mood, to Elton John's Your Song, with a detour into a Bohemian Rhapsody sing along. The choices allowed Kramer to show off his deft command of the keys, and an expressive story-telling voice that could get our nerves tingling.
Pandemic restrictions play a minor role in the story, and Kramer related how these encouraged a new creative outlet, which allowed him to further vary his offerings.
We were reminded that Australia is about the only place in the world right now where punters can gather for a show. It's always nice to return to an independent venue such as fortyfivedownstairs, especially for a quality offering like Don't Make Me Play Piano Man.
For those looking to make a night of it at fortyfivedownstairs, this show is followed by the eccentric musical delights of Electric Loneliness at 9.00pm. This gives enough time for a walk through the crisp autumn air between events, and a quiet reflection on how lucky we are to be in Melbourne.
If you needed any more incentive, fortyfivedownstairs is celebrating the re-opening of its bar with a complimentary glass of wine or sparkling for every holder of a ticket to the shows above.
---
Steven Kramer: Don't Make Me Play Piano Man
fortyfivedownstairs, 45 Flinders Lane, Melbourne
Performance: Friday 30 April 2021 – 7.00pm
Season continues to Sunday 2 May 2021
Information and Bookings: www.fortyfivedownstairs.com
Image: Steven Kramer – photo by Chloe Snaith
Review: Jason Whyte