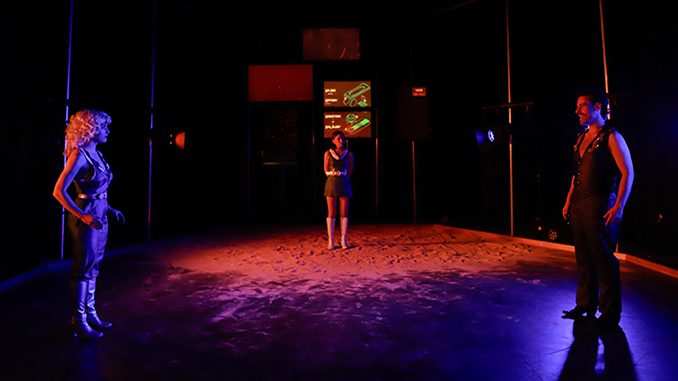 SLUTNIK™ 2: Planet of the Incels crash lands onto the stage for another camp fuelled adventure from planets far, far away. When the crew of cannibal sluts is forced to make a crash landing on an undiscovered world, new threats emerge that bring into question everything they thought they knew about the universe.
First and foremost this production is deliciously CAMP, from the set, to the costumes, sound and lighting, every element has been enhanced by and leaps boldly into the philosophies and whimsy of CAMP. Sadly, the work's content and delivery fail to meet the top tier aesthetics.
Flick's script is at times beyond comprehension – a cavalcade of words that tumble and crash at the audience and is testament to the old adage of "show don't tell." Far too often the script simply becomes akin to an overly verbose lecture which leaves the characters onstage void of any depth or relatability.
Tansy Gorman directs the work with very little structure or consideration of how to best use the space and performers to convey the story. Rather than create a fixed narrative Gorman somehow leans further into the verbose text and enhances the chaos rather than stabilising.
Matilda Gibbs, Sara Reed, Ben Ashby, Ethan Morse, Michael Cooper, William Strom and Benji Smith make the most of what is given to them, committing to the CAMP and revelling in the Sci-Fi genre of the work.
The ensemble brings performances that are fun, cheeky and even at times, unsettling, with the most interesting characters being the troop of Incels – though this may not have been the intention of the work, it certainly was the outcome.
Mia Tuco's Choreography, Georgie Wolfe's Lighting and Jack Burmeister's Sound and Composition design help to save the work from becoming a lagging Tedtalk and enrich the world on stage with enough life, depth, and foreboding  to hold the audience's attention insight of the overwrought dialogue.
Bringing Sci-Fi to the stage is ambitious to say the least, and to do it within the context of a sequel is even more admirable, however, SLUTNIK™ 2: Planet of the Incels just never quite reaches the theatrical heights of infinity and beyond.
---
SLUTNIK™ 2: Planet of the Incels
Theatre Works, 14 Acland Street, St Kilda
Performance: Friday 8 September 2023
Season continues to 16 September 2023
Information and Bookings: www.theatreworks.org.au
Image: SLUTNIK™ 2: Planet of the Incels – photo by Sarah Clarke
Review: Gavin Roach