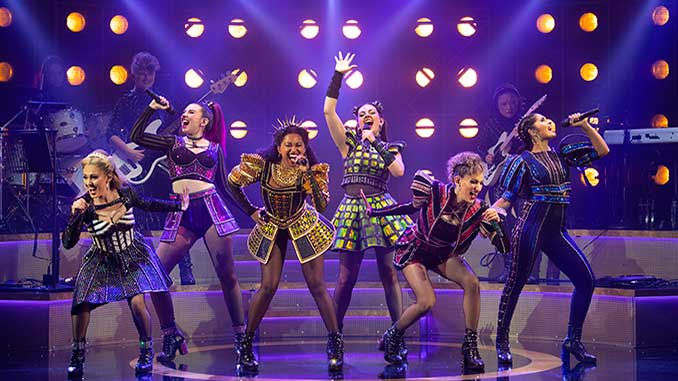 In 2017, a group of Cambridge University students performed Six, a new show by Toby Marlow and Lucy Moss, at the Edinburgh Fringe. Last week, the Broadway production won Best Original Score at the 2022 Tony Awards.
The Australian production opened in Melbourne this week, after a successful run in Sydney, and already has legions of fans cheering for their favourite queen.
The Six are the 6 wives of Henry VIII (King of England 1509–47). But don't worry if you don't know your English Tudor history because he's irrelevant. And while it's nothing like a grade 6 history class, its "divorced, beheaded, died, divorced, beheaded, survived" will make sure you never forget the women who were married to him.
Six is about 6 women who have one thing in common – and he's still irrelevant to the show.
The queens are re-imagined as a pop group who want to choose their lead singer in a sing-off about who has the most tragic story. But it's not miserable or about the oppressive patriarchal system that let a powerful man destroy the lives of the women he married, even the ones who lived.
The six queens musical styles were inspired by pop divas of this century – from Beyonce to Sia to Britney – but each performer – opening night cast were Phoenix Jackson Mendoza, Kala Gare, Loren Hunter, Kiana Daniele, Chelsea Dawson and Shannen Alyce Quan – bring enough of themselves and their experiences to make their queen feel original and fresh.
While the cast (and band) kick the arse of expectations and stereotypes, a lot of the love for each queen comes from the costumes originally designed by Gabriella Slade – who also won a Tony. At first glance, they are shiny glamourous queen-inspired pop costumes made to be seen from space.
But their detail is based on the history of each character and they are protective suits of armour that let them be comfortable and confident. And they inspire some impressive audience cosplay.
Behind its quasi-history story – and nerdy history puns – Six reflects how women are represented on stages and how our theatre industry needs to keep getting better at addressing gender balance, diversity and representation by telling stories from points of view that are often forgotten, dismissed or ignored.
On one level, Six is the ultimate pop concert. That's enough reason to see it. But this show puts young women and non-binary performers front and centre and ensures that they can tell their stories from their own point of view in their own voices. And that's why it's important.
---
SIX The Musical
Comedy Theatre, 240 Exhibition Street, Melbourne
Performance: Thursday 23 June 2022
Season continues to 7 August 2022
Bookings: www.ticketek.com.au
For more information, visit: www.sixthemusical.com for details.
Image: Loren Hunter, Chelsea Dawson, Phoenix Jackson Mendoza, Kala Gare, Kiana Daniele and Vidya Makan (SIX Australian 2021 Cast) – photo by James D Morgan | Getty Images
Review: Anne-Marie Peard