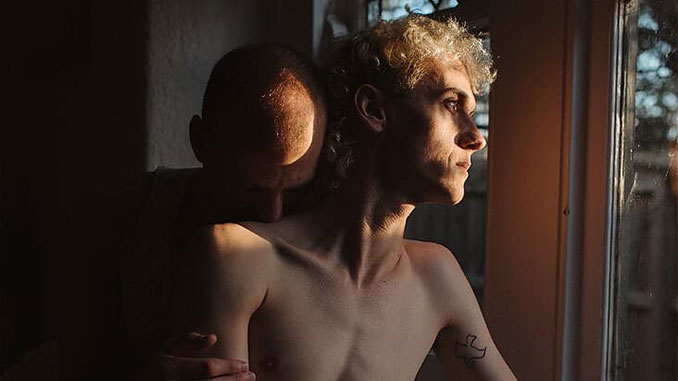 In Homer's epic The Odyssey, the beautiful songs of The Sirens lured many vessels to their ruin. Ulysses, warned by goddess Circe, had his crew tie him to the mast and block their ears with wax, and they passed safely. Pity the adventurous but inexperienced seaman – or in Sirens, outsider – who has no-one to guide them.
The outsider here is twenty-two-year-old Eden (Benjamin Nichol, also the author) because he's gay in a small, quite straight, Australian coastal town. He has a religious mother, a prematurely retired footballer dad, and not so much in common with either.
There are old school friends for lounging by the sea, but Eden never learned to swim. Most excitement arrives through phone apps promising a good time. Eden isn't shown a lot of care or respect in these hookups.
The currents of life change one day when Eden spots a "DILF" from the beach. This is David, a drag queen back from LA to care for his dying father. Could this mature man be the safe harbour Eden has longed for?
Sirens (created with Izabella Yena) successfully gives us a view of how the loneliness of a young man can slant towards desperation. David's character is less well drawn, although this could well be because Eden doesn't require such knowledge.
The piece is advertised as "A queer coming of age story from some of Melbourne's most acclaimed emerging artists." Whilst we could quibble that the central metaphor is a little murky, this is certainly a quality production.
The combination of sound design by Connor Ross and lighting design by Harrie Hogan capture the restlessness of the coast and of Eden's mental state. Assured direction by Liv Satchell keeps the story moving along, using changes to pace or Eden's movement to effectively indicate shifts in his mood.
Nichols makes crisp transitions between various characters, and we can believe what they are telling us, aiding our immersion in the tale.
Becoming an adult might feel like it's "sink or swim", but somehow, we learn from setbacks. Sirens is an effective story of learning the difference between fantasy and reality, overcoming your programming, and thinking about what kind of voyage you want next.
---
Sirens
Trades Hall – Meeting Room, Corner Lygon and Victoria Streets, Carlton
Performance: Thursday 13 October 2022 – 7.30pm
Season continues to 23 October 2022
Information: www.melbournefringe.com.au
Image: Sirens (supplied)
Review: Jason Whyte