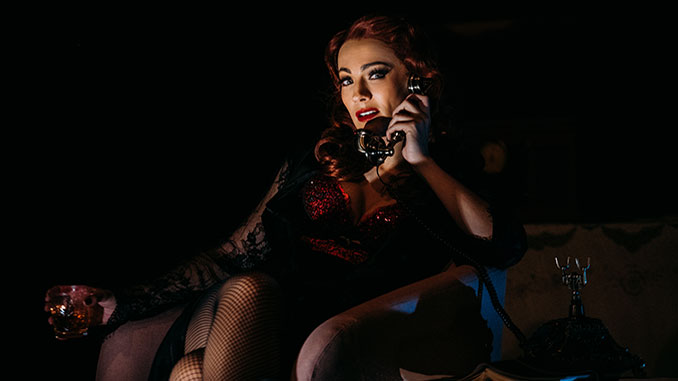 A voyeuristic deep dive into the Golden Age of Hollywood, JTM Productions' recently presented Sex, Lies & Betrayal – Memoirs of a Hollywood Star at Tusk High Bar in a Victorian premiere.
Written and Directed by Margaret Fisk AM, Sex, Lies & Betrayal is a whip-smart expose of an era long gone. Meet Miss Nightingale, adulteress, seductress and femme fatale. She was the object of desire and once known as the most beautiful woman in the world – who's now willing to tell all…
Here, Nightingale draws back the curtain of an era where behind the scene scandals come to life in all their raunchy details. In a late night phone call, scotch in hand, Nightingale draws on her upcoming memoirs, candidly reminiscing about her success and power, alongside her tales of passion, pain and betrayal.
Lending poignancy to this confected history, real-life denizens of Hollywood's golden era make a mention – amongst them closeted matinee idol Rock Hudson, child star Mickey Rooney, Lana Turner, Bette Davis, Frank Sinatra and Judy Garland. "Secrets were rife, gossip was a way of life".
With help from Trent Ashley (wig tamer) and Brett Michael Artistry (make up), Karla Hillam looks and sounds the part of Miss Nightingale. For just on an hour, Hillam gives a solid performance from beginning to end, effortlessly navigating the script and musical arrangements.
With musical arrangements and orchestrations by Ned Wright-Smith, timeless classics such as La Vie En Rose, Nature Boy, I've Got You Under My Skin, and I Put A Spell On You, blended with more recent favourites by Sara Bareilles and Chistine Aguilera, are seemlessly woven into the narrative.
Bookended by 2 antique theatre lights of a bygone era, Christina Logan-Bell's design of a few well placed furniture pieces suited the surrounds of the upstairs lounge of Tusk High Bar and allowed the staging to flow with ease. Casting mysterious shadows across the space, Jason Bovaird's lighting sets the mood, complimenting the narrative.
Spearheaded by Karla Hillam as Nightingale and with all production elements thoughtfully considered, Sex, Lies & Betrayal – Memoirs of a Hollywood Star has the ability to play to a wide audience and enjoy the success it fully deserves.
---
Sex, Lies & Betrayal – Memoirs of a Hollywood Star
Tusk High Bar (Upstairs), 67 Green Street, Windsor
Performance: Thursday 13 January 2022
Information: www.facebook.com/LiesandBetrayal
Image: Karla Hillam as Miss Nightingale (supplied)
Review: Rohan Shearn