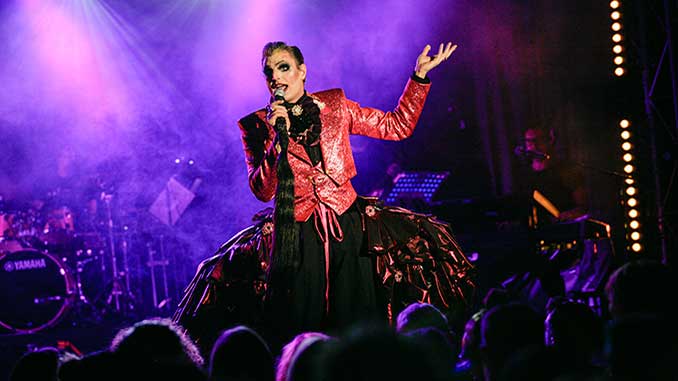 I first encountered Reuben Kaye at Chapel Off Chapel in 2018 as part of Provocaré: Festival of the Arts. A star on the rise then, we knew we were witnessing something special.
Since then this Cabaret superstar has taken the world by storm. He has won multiple awards including Best Cabaret – Green Room Awards; and Best Cabaret – Adelaide Fringe.
He has enjoyed residencies the world over, was recently an Ambassador for the 2022 Adelaide Fringe, and received a slew of five-star reviews – one only has to experience a Reuben Kaye show to see why.
His audience is as eclectic as his material. Kaye had them in the palm of his hand from the get-go. Making his entrance in grand style, silhouetted in rococo-baroque inspired hoop dress, complete with a giant black ponytail attached to his microphone, Kaye is impeccably dressed.
Kaye is a consumate performer, who delivers in spades. For near on 80 minutes, no subject is off limits. This whip-smart extravaganza ventures from growing up 'queer' in the 90s, through to the pandemic, the perplexing state of government corruption, and a demonstrative Auslan sex-act. Kaye is a consumate performer, who delivers in spades.
With his six piece band, The Close Contacts, led by Shanon D Whitelock on keys, Kaye is superbly backed. His richly timbred voice is top notch, delivering a songbook of classics including Pynk (Janelle Monae), Sympathy For The Devil (Rolling Stones), Everybody Knows (Leonard Cohen) and Boys Don't Cry (The Cure).
And just when you thought it couldn't get any better, Kaye rips out an extended finale featuring Big For Your Boots (Stormzy), These Boots Are Made for Walkin (Lee Hazlewood), Scream If You Wanna Go Faster (Geri Halliwell), Serpentine (Peaches) and Money For Nothing (Dire Straits).
Just as Jake Spears would sing "Filthy / Gorgeous" in 2005, Reuben Kaye is just that, Filthy and Gorgeous – and that's an understatement. With only a few shows left, The Butch is Back is a must see show!
---
Reuben Kaye: The Butch is Back
The Malthouse – Merlyn Theatre, 113 Sturt Street, Southbank
Performance: Saturday 2 April 2022
Season continues to 24 April 2022
Information and Bookings: www.comedyfestival.com.au
Image: Reuben Kaye – photo by Serge Thomann
Review: Rohan Shearn