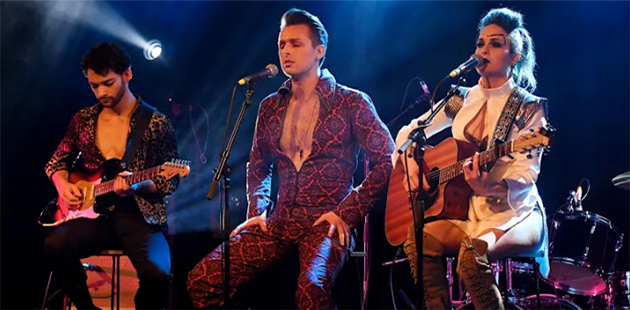 Rebel is a glorious live circus rock tribute to David Bowie. Sparks flew – literally and figuratively – over an incredible hour of music, aerial displays, and acrobatics.
Stewart Reeve leads his brave band of beautiful misfits through a wonderful selection of Bowie's work. It's less of a setlist and more a mixtape, a labour of love cobbled together as one might do for a friend when they admit they haven't listened to him before.
Through most of the numbers, one of the band would step forward to perform some circus artistry. They were all phenomenal: Cat Scobie on bass guitar and angle grinder; Winter Cyan on synth and keys, as well as cyr wheel and fire; Rachel Trainor on backing vocals, drums, and acoustic guitar; Jane Schofield on aerials, hula hoops, and fire; and Chris Singer on lead guitar and aerials.
Whether the only album you own is the 2 CD Best of Bowie, or you're a deep-cut aficionado who appreciates Reality-tour renditions of Rebel Rebel and Loving the Alien, OR you're a fan of physical acts of daring-do, then this is the show for you.
Summer hours meant plenty of daylight slipping in and over the show, almost making you wish you could be watching it at night. However, as the sun got lower over the hour, the approaching dusk gave the show an even more enchanting quality.
The sparse beauty of Loving the Alien, an astonishing live sax during Lazarus, the aerial splendour on display in Space Oddity, are just a few of so many remarkable moments in a show Melbourne only gets for a handful of dates before they head west for Adelaide Fringe. It was a privilege to watch. In a word? Majestic!
---
Rebel
The Melba Spiegeltent, 35 Johnston Street, Collingwood
Performance: Thursday 31 January 2019 – 7.00pm
Season continues to 3 February 2019
Bookings: www.midsumma.org.au
For more information, visit: www.stewartreeve.com.au for details.
Image: Rebel – photo by Brig Lee
Review: David Collins