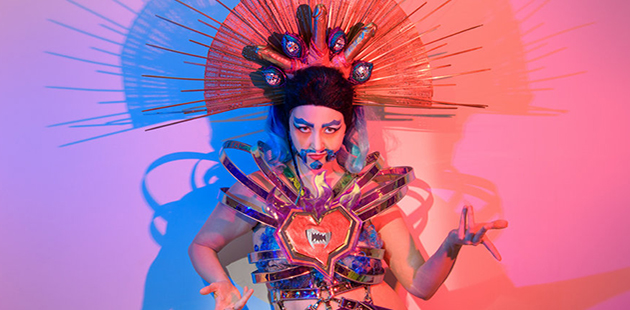 Acts of ritual are rife throughout the queer community, with secret codes and messages dotted all through history, we see how queer individuals have navigated and quietly celebrated themselves in a world that often didn't want to see or hear them.
It is within these acts of ritual that Radical Rituals is born from. Bringing the discussion and act of queer Rituals out from behind the curtain, this production is a celebration of all that we are and all that has come before.
Each act and moment adds its own ritual and asks the audience to join in on the journey as we unlock and investigate the left over emotions from battles long fought. From grief and anger, to pain and love, the performers traverse through each emotion with truth and a rawness that makes this work brilliantly authentic.
The artists are supremely talented, with each act feeling fresh and distinctly different from the last. Each one was sleek and political, each had a message to say and not one of the performers were going to be nice about it. These artists used the stage to wildly and loudly scream their anger, their joy, their frustrations and their love. They revealed and bared their soul, exposed their flesh and all in the name of healing – a ritual to help the coming together of a community so often at odds with itself.
There were of course a few bumps in the road. Our master of ceremonies, Glitterfist, has the perfect look and drive to lead the audience through the acts but falters a number of times during the night. Speeches run long, causing the meaning to become lost in the cacophony of words and at times it felt as though much was being made up on the spot. However, a firm dramaturgical hand and a keen eyed director would smooth this out and assist in lifting the pace.
The night did run long, with numerous moments of set up and pack down that caused the smallest of dips in momentum that were felt by the audience. That being said though, it was wonderful to be amongst a loud and supportive audience who clearly had come with open hearts and open minds, ready to be a part of something quite unique.
This is the work we should be championing, work that is flawed and joyous and rough and heartfelt – everything we strive to uphold with our community. This is where queer artists have found a platform and it is up to use to step up and listen. Radical Rituals truly is the Queer extravaganza that Midsumma has been crying out for!
---
Radical Rituals
The Melba Spiegeltent, 35 Johnston Street, Collingwood
Performance: Friday 1 February – 9.00pm
Season continues to 9 February 2019
Information and Bookings: www.midsumma.org.au
Image: Radical Rituals (supplied)
Review: Gavin Roach