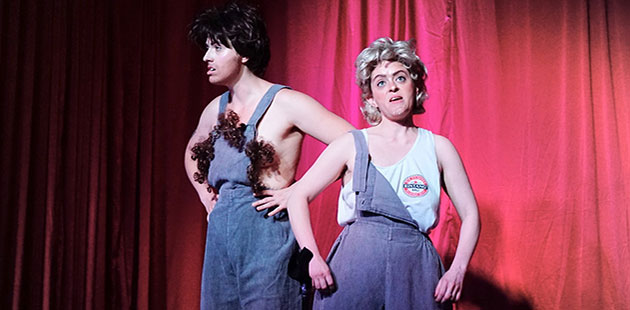 Full disclosure, I love Summer of the Seventeenth Doll. It absolutely deserves the mantel of an Australian classic. But in the hands of Po Po Mo Co and Friends, I now have a deeper appreciation for the work and for queer theatre and queer dramaturgy.
This is not an adaptation but a dissection, a comment on the script and underlying themes, broken down into meaty chewable chucks to be gnawed on by some of Melbourne's phenomenal queer performers.
The work opened with an unfortunately dull interpretation of Scene One from Kerith Manderson-Galvin and Freya Pragt, who seemed intent on smugly ostracizing the audience with a performance that "you just didn't get" if you were left confused by or disconnected to.
Thankfully Nikki Viveca lifted the mood with a pitch perfect performance that was as hilarious as it was emotionally heartbreaking. Viveca gave an honest insight to growing up trans and losing a childhood she never wanted, while dreaming of a past that will never happen. She made some intriguing parallels with the source material, gingerly taking the audience on a journey one would never expect to go on from the Doll text.
Teddy Gunn and Christian Gillet are consummate performers of camp. They get it – the comedic timing, the quick improvised moments, the respect for each other's performance. Through and through they were a dynamic duo who challenged the scripts notions of gender and stereotypes, while taking a sassy swipe at Australia's cringe towards culture.
The Botticelli Angels were creepy perfection. From a life size Kewpie doll dabbing mayonnaise on audience members to a trio of pent up archetypes, they attack the script (and the Kewpie doll) with the rage of the furies. These performers were fearless – rapidly demanding the audience's attention and are utterly deserving of it, as they uncover many of the scripts misogynistic under (and over) tones, throwing them right back to Lawler himself and demanding answers.
Drag chanteuse Charity Werk added a tender and soft moment in the work, with a beautiful spoken word and song interlude. Charity held the audience with a deeply touching and emotionally earnest performance, showcasing them as a performer of grace, pose and impeccable comedic timing.
Po Po Mo Co wrapped up the night with a hilarious spin on the last scene. Every movement, side eye, wink to the audience and costume change was a delight. As far as finales go this is one you just don't want to end. Po Po Mo Co are hilarious, that goes without saying, but the trope really find a stunningly sweet relationship between the two male characters and unpack the "masculine bond" and shine a light on these individuals obvious emotional connection.
This work is genius – it is fun, witty, smart and nuts. It is everything that makes queer theatre fun and this work really is testament to Po Po Mo Co's core – that these stories are for everyone and every one is welcome.
---
Po Po Mo Co presents Summer of the 17th Doll
Hare Hole (Hares & Hyenas), 63 Johnston Street, Fitzroy
Performance: Friday 31 January 2020
Season: 31 January – 1 February 2020 (closed)
Information: www.popomoco.com
Image: Summer of the 17th Doll – courtesy of Po Po Mo Co
Review: Gavin Roach