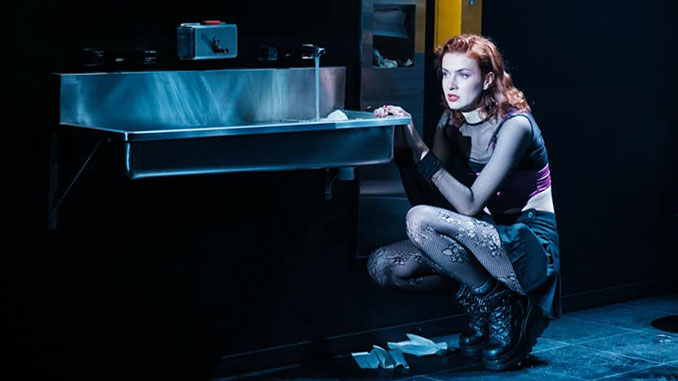 Darlinghurst Theatre Company's production of Overflow is by far one of the superbly crafted works of theatre that Sydney has seen in a very long time.
Trapped in a Metro bathroom, hiding from the thugs, and the world outside, Rosie recounts the community, companionship and confidence she has found in the hallowed walls of the humble club toilet.
Slowly but masterfully, events in Rosie's life unfold, revealing a life lived in defiance of norms, a life where a bathroom is a haven but the act of using one is often denied and a life that will be lived to be fullest, no matter what is thrown at her.
It is no understatement that Travis Alabanza's script has been lauded as a future classic, this is storytelling at its finest. Alabanza's dialogue flows with a grounded wit, creating a world and character that feels known and familiar and to their credit, this allows them to then pull the rug out and hit the hard truths that Rosie, and so many others, face day after day.
Every element of theatre has been factored into the writing, heavily influencing and interpreting how the set, costume, light and sound will be used in the story – it is as if each element is its own character, creating a unique ensemble-feel in a one person show.
Janet Anderson is a powerhouse performer, breathing life into Rosie with gravitas, vulnerability and deep respect. Anderson draws in and holds the audience's attention from the first moment they appear on stage and manages to hold them in the palm of their hand until the last.
The outside world seems to disappear when Anderson is onstage – their connection to the script, to Rosie and the world she must navigate, is evidence of Anderson's immersive and spellbinding talent.
Dino Dimitriadis guides the work with a firm hand, but one that is open, generous and celebrates the collaborations that are at the core of this work. Dimitriadis' eye for detail is second to none – with each and every moment given the utmost thought and intent.
It is not surprising then that Dimitriadis doubles as the production's Set Designer, with the lush surprises and detailed choices elevating Rosie's surroundings to almost inhibit a character in its own right.
Benjamin Brockman and Danni A. Esposito's respective lighting and sound designs are utter perfection – working not only in tandem to flick between the many many many worlds that Rosie encounters, but their designs seamlessly work in parallel with the text, Anderson on stage and the unseen and harsh outside world.
Costume Designer Jamaica Moana brings a rich reality to stage – there's an intimacy between what she is wearing and how Rosie wears her clothes. They celebrate, they protect, they scream – they are the armour that allow Rosie to get through her day.
There is no denying that the alignment of many stars and many amazing creatives made this production the definitive example of how to bring a work of this calibre to the stage.
Each creative is invested in the work and there is no more denying that these creatives are "lacking the training" to be given the opportunities they so richly deserve.
Audiences should not just hope but rather make their voices heard for this production to tour – to deny audiences this level of theatrical excellence is nothing short of a travesty.
---
Overflow
Eternity Playhouse, 39 Burton Street, Darlinghurst
Performance: Sunday 18 September 2022
Season continues to 25 September 2022
Information and Bookings: www.darlinghursttheatre.com
Image: Janet Anderson as Rosie in Overflow – photo by Robert Catto
Review: Gavin Roach