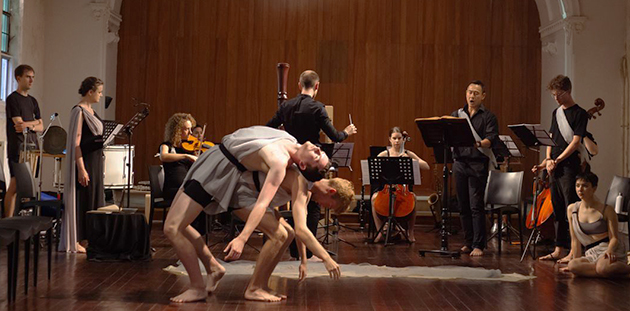 What sets Midsumma apart from other LGBTIQ+ Festivals throughout the country is the diverse art forms on offer. From theatre to visual arts to cabaret and, in the vase of the Forest Collective's Orpheus – a hybrid of dance and opera.
Orpheus is a captivating testament to unbridled passion and talent. Every artist has a moment to showcase their skills while working together to create something really quite remarkable. Under the direction of composer and creator Evan Lawson, Orpheus matches its ambition with measured pace and intriguing technique. You can feel the excitement and passion radiating off Lawson as he conducts the work with flare and control.
Ashley Dougan's choreography is rhythmic and repetitive, without becoming boring. He shows an understanding of how to tell s story through the body and effectively interprets the score with the smallest of movements. Luke Fryer & Piaera Lauritz are impressively talented, bringing something personal and interesting to each of their characters.
Raymond Khong, Kate Bright and Joseph Ewart's vocals are remarkable. Each used their voice to convey the depths of emotions that unfold during the work. Each have a moment to shine and use the acoustics of the space to enhance each the feel of the work.
The orchestra carried the work splendidly. It was a treat to peak "behind the curtain" and see how many of the sound effects were created and used to convey the story. Work of this caliber and passion should be given the investment and stage it deserves, and organisations like Victorian Opera and the Melbourne International Festival should be taking note.
---
Orpheus
Sacred Heart Oratory – Abbotsford Convent, 1 St Heliers Street, Abbotsford
Performance: Sunday 3 February 2019 – 3.30pm
Season: 31 January – 3 February 2019
For more information, visit: www.forestcollective.com.au for details.
Image: Orpheus – photo by Kate Baker
Review: Gavin Roach