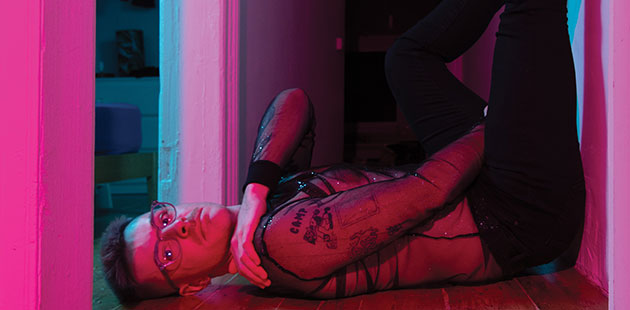 New Balance, written by Christopher Bryant and Emma Palackic, is well-named, because the curious audience might not know exactly what they're getting, and will find that a flexible state of mind is an asset.
In pink T-shirt, and shorts and shoes for running, the work is performed by Bryant. The show's development received mentoring from Next Wave x Brunswick Mechanics Institute, and recognised exponent of the one-person show, Nicola Gunn (Piece for Person and Ghetto Blaster). Her influence here filters through Bryant into some not-so-vigorous activity within the monologue, foreshadowing a particular slant on Queer life.
New Balance draws on contributed stories of the "LGBTQ experience", especially as this intersects with "the social model of disability". Bryant delivers the anecdotes in a consistent style, which could create uncertainty on whether we were hearing a variety of viewpoints or impressions, or the progression of one person's experience.
At times this could obscure the attempts to demonstrate commonality, but well, whatever. Bryant is an engaging performer, and some anecdotes earned the laughter of recognition from the audience. There are some interesting ideas to ponder in New Balance. One is that, following Plato's teachings, there's an ideal of "Queerness" that people can't realise.
Bryant notes that whilst Queerness should be intersectional, people of colour, or those with disabilities, might find that the Queer mainstream doesn't have a place for them. Some voices in the piece acknowledge their complicity in this.
Maybe raising awareness to change attitudes can reduce the gap between the Platonic ideal and Earthly Queer. The conclusion offers a hopeful metaphor; the suspended mirror ball reflects light in all directions, so that everyone has a chance to be seen.
---
New Balance
Theatre Works, 14 Acland Street, St Kilda
Performance: Wednesday 5 February 2020 – 7.00pm
Season continues to 8 February 2020
Information and Bookings: www.theatreworks.org.au
Image: Christopher Bryant – photo by Sarah Walker
Review: Jason Whyte