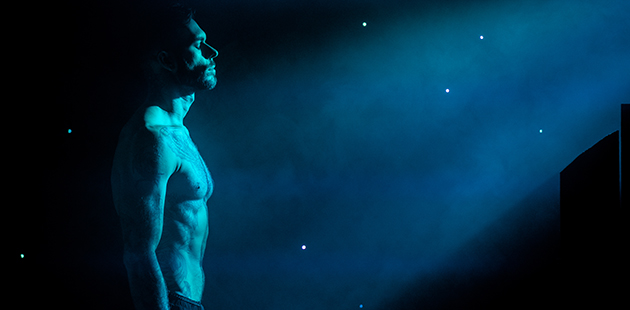 A thrilling mix of burlesque, dance and circus; this show delivers world class performers across a large number of fields. Described by Director Bass G Fam as "a thematic story with almost no narrative" – the central and seductive relationship between the matador and the bull forms the emotional core of this racy offering.
The piece opens with a strong ensemble dance number, which introduces us to a variety of dance styles; including contemporary, balletic, and latin choreography. As there's no narrative, I suspect a certain critical component is diminished in the viewer, which is replaced by an epicurean surrender to the spectacle.
The soundtrack was a particular highlight. It featured a wide variety of popular hits and recognisable anthems. We were also treated to instrumentals, and plenty of 80's covers; many featuring a strong latin component. Will Pyett of Blackscale Music has contributed a number of original mixes, and Montanna Flask contributes a stirring vocal performance.
The show is broken into a series of numbers, or acts. The absence of narrative means we search for clues as to what each segment may mean, with the costumes frequently giving us indications. The bulls don horns, the matadors sport red flowing material that gestures towards the cape.
We were treated to a muted primary colour palette, with the emphasis on red, gold, black and yellow. Fam set out to test gender norms, which he explores in part through his deployment of corsets, boots and high heels. Hand embroidered, jewelled, and feathered details take us further into the glitzy world of the matador.
The cast is populated with impressive CVs, such as 'nine time world Salsa Champion' Mario Acosta-Cevallos. They were led admirably by experienced, world conquering performers Kelly Byrne and Christopher Politis. The less experienced cast members also shine, with a captivating performance from magnetic entertainer Amarah Radford. Zoe Marshall stunned the audience with her 'hair hang' act; you'll have to see that one before you believe it.
This is a night of passionate and fiery latin themed dance and circus. Fam notes that "If matador is about anything, it is a celebration of love, acceptance, friendship and the bonds that tie us together." This is not a performance you will forget in a hurry; it's a thrilling piece of entertainment with a lot of heart.
---
Matador
Studio – Sydney Opera House, Bennelong Point, Sydney
Performance: Thursday 20 June 2019 – 8.00pm
Season continues to 29 June 2019
Bookings: www.sydneyoperahouse.com
Following its Sydney season, Matador will be presented at The Tivoli Brisbane (18 – 20 July) and the Space Theatre – Adelaide Festival Centre (15 – 17 August). For more information, visit: www.facebook.com/matadortheshow for details.
Image: Tro Griffiths – courtesy of Bass Fam Creative
Review: Oliver Wakelin