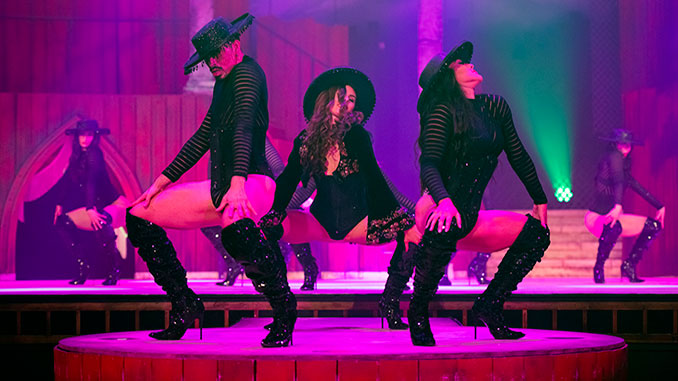 It's been over two years since Bass Fam Creative turned the Melba Spiegeltent into a foundry with its show, Matador, casting an incendiary story from a wonderful mix of burlesque, dance, and circus.
You may have noticed, but there's been some things that have happened in the time since. However, Matador has persisted, and we are all the better for it. After successfully navigating various interstate shows and their various interstate restrictions, Matador returns to Melbourne with a brief-but-glorious turn in Her Majesty's Theatre (HMT).
Transplanting the show from the intimate Spiegeltent to HMT obviously comes with some challenges as filling the space requires more than just turning up the volume on the music. Physically, this is less of a pickle, thanks mostly to some terrific set design that hung and stood slices of a bleached piazza along the width of the stage.
A larger space requires a larger show, sure in terms of running time but most importantly in terms of the performance. Supported by stunning lighting and music choices, each performer – whether performing solo, duo, as an ensemble, or just stalking at the top of the stairs – was marvellous in how effortlessly they filled the space.
You may feel that the musical adaptation of The Bodyguard soured any future use of Whitney Houston no matter the show, but Matador's opening number – a bombastic, celebratory routine set to I Wanna Dance with Somebody (Who Loves Me) – will quickly change your mind.
From there the show generally keeps a good ebb and flow with some scenes doing lovely work drawing you in before the next rockets out loud and salacious in the best possible way.
The earlier rendition of Matador admittedly felt like it had a stronger throughline, but it wasn't so missed here with the larger picture of this return production being the thematic one – that there is strength in submission, exploring the pain and wonder of love, its hold over us for good and ill.
Whether Contemporary, Commercial, or Latin – the choreography threatens to keep you at an emotional distance because it's just maths isn't it? Principles of mass, velocity, gravity, friction, conservation of angular momentum, and more are abstract concepts. There shouldn't be anything there to grasp your attention.
But then Pip Keltie and Jessica Robbin take to the sky, or Indigo Hunt holds another perfect penché, or Gerard Pigg dances in heels so high it should be classed as an aerial routine, or Pip again and Christopher Politis as respective Matador and Bull telling their tragic, beautiful story and time and time again your breath is caught in your chest and you're reminded of a short verse from the Canadian poet Atticus:
"My darling, you will never be unloved by me, you are too well tangled in my soul."
---
MATADOR
Her Majesty's Theatre, 219 Exhibition St, Melbourne
Performance: Thursday 29 April 2021 – 8.00pm
Season continues to 2 May 2021
Bookings: www.ticketek.com.au
For more information, visit: www.facebook.com/matadortheshow or www.midsumma.org.au for details.
Image: Gerard Pigg, Pip Keltie and Josephine Lopes in MATADOR – photo by Ben Vella
Review: David Collins