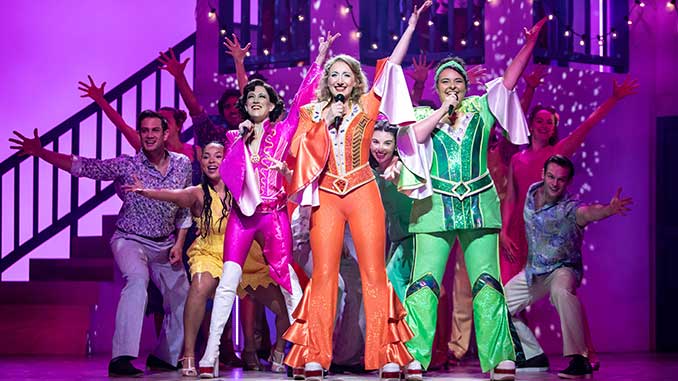 For almost 25 years, jukebox musical Mamma Mia! has been making a truckload of Money Money Money – reputedly over $4 billion since opening at London's Prince Edward Theatre in April 1999 – as the ABBA songs keep pumping out with infectious, mood-lifting power. 
It may not be for everyone but, given that ABBA have cast a net over the globe and pleasured intergenerational musical sensibilities with their heartfelt melodic songs for decades, it's not too difficult finding even a little love for the show. More than 60 million ticket holders to date are likely to agree.  
And Melbourne is Under Attack once again. Yet another buzzing opening night is under its belt as it welcomes the phenomenon back to the post Harry Potter and the Cursed Child, wonderfully refurbished Princess Theatre where its Australian premiere took place in 2001.
For its latest reveal – the show's fourth Australian tour – producers Michael Coppel, Louise Withers and Linda Bewick's revival of the newly staged and locally created 2018 production is a punchy cocktail of ABBA-fuelled bliss for an audience blind to any shortcomings and ready to go bananas at and for any price.  
Few need reminding of the story's Greek island setting where single mum Donna Sheridan (Elise McCann) runs a taverna in need of repairs and whose young daughter Sophie (Sarah Krndija) is set to wed sweetheart Sky (Lewis Francis).
Not knowing her father and in an attempt to discover more about herself, Sophie discovers three possible candidates – Sam (Martin Crewes), Harry (Drew Livingston) and Bill (Tim Wright) – after stumbling on Donna's diary, then secretly invites them to the wedding. Naturally, eventful shenanigans ensue and everyone's life ricochets with new or enlightened visions.
From an adventuresome female duo, creator Judy Craymer and book writer Catherine Johnson, the show blends a range of everyday characters capped by strong female identities, including Donna's long time friends and band mates, Tanya (Deone Zanotto) and Rosie (Bianca Bruce), from her younger days in Donna and the Dynamos.
There's something of a wholesome and anticipatory flavour that the work exudes and altered references to Greek-Australian connections suits Melbourne's local context. But, although the long list of ABBA hits hit the mark with appropriate timing, they don't necessarily pan out with a convincingly snug fit. Never mind because the audience is tickled to bits anyway.
Gary Young compliments the songs with lively direction and Tom Hodgson's swirling and often wildly gymnastic choreography is a striking match despite occasional scene-to-scene transitions feeling clumsy. 
Producer and designer Bewick's multi-entry, two-level set featuring the crisp lines, whitewashed walls and blue shuttered openings of Greek island vernacular gives plentiful opportunities for the cast to navigate.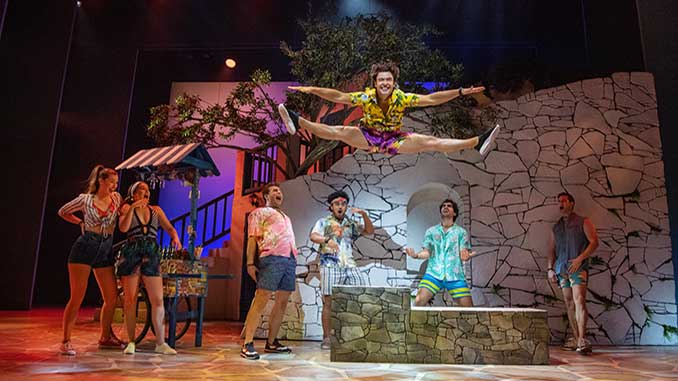 Suzy Strout's costumes are a coastal lover's dream in gelato colours with some dazzling body tight performance gear when the situation requires and Gavin Swift creates a range of lighting moods that almost upstage a routine morning, afternoon, evening and night.
Thank You For the Music, ABBA – and to the eight member band who revved up sounds as crystal clear as the Aegean waters. Unfortunately, inconsistencies amongst the vocals dragged the quality down to murkier Port of Piraeus standards.
Still, there are a few standout performances along its frothy way. McCann nails lead role Donna's bruised romantic heart and sleeves-rolled-up-and-get on-with-things attitude. McCann wasn't quite on the money on opening night in the low register demands of the opening Money, Money, Money, but she quickly turned things around and rose to an unforgettable highlight with a beautifully nuanced The Winner Takes It All in Act 2.
Zanotto is the total package as the lithe and live wire Tanya, giving Does Your Mother Know roaring racy results. Livingston's perfected art of stylish comic delivery and characterful singing is impressive, coming in as the podium performance winner of Donna's three exes as Harry. And, as the hearty and jovial Rosie, Bruce endears to no end, completing the trio of female friends who make their bonds feel real and entertain well beyond Act 1's ripping Chiquitita and Dancing Queen.
The pivotal role of Sophie is enlivened with affable charm by Krndija who, together with McCann, build a convincing mother-daughter pair. Vocally, the deceivingly tough demands ABBA's songs require do not always get the flesh and spirit of the originals but Krndija's diamond-cut sweetness finds its best suitability in Act 2's brilliant opening nightmare, Under Attack, and, in celebrating the realisation that big decisions need not be hurried, the soft, radiant closing, I Have a Dream. 
Francis' tall, dark and handsome Sky has the stage presence and coastal coolness along with his infantile friends but some better buffed up singing would certainly set him apart. The same could be said for several other roles. 
Nevertheless, right to the finish, the hardworking ensemble kick a whole lot of life and cheer into the show. Yes, it comes with serious amounts of cheesiness but, with three fabulicious encore routines to go wild on, few would leave without a buzz. That's The Name of the Game!
---
Mamma Mia! The Musical
Princess Theatre, 163 Spring Street, Melbourne
Performance: Friday 6 October 2023
Season continues to 10 December 2023
Bookings: www.ticketek.com.au
For more information, visit: www.mammamiathemusical.com.au for details.
Images: Deone Zanotto, Elise McCann, Bianca Bruce and Company of Mamma Mia! The Musical – photo by David Hooley | Jordan Tomljenovic and Company of Mamma Mia! The Musical – photo by James D Morgan (Getty Images)
Review: Paul Selar