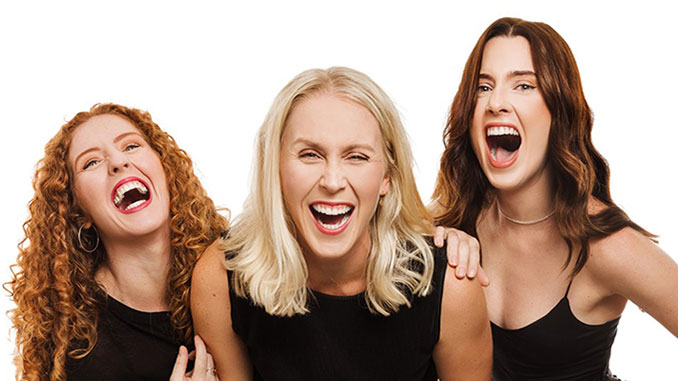 You can always count on Midsumma for quality cabaret offerings. This tradition continues in the 2023 festival, where vocal group "The Local Lesbians" present Lesbian Loves Stories.
If the group's name doesn't ring a bell, it could be because this trio aren't so local – this is the first "interstate" run of the show. Whilst Chloe (Chloe Rose Taylor), Tash (Natasha Veselinovic) and Ruby (Ruby Clark) may be of unknown origins, they quickly showed us the range of their musical talents.
Songs were chosen to follow spoken word elements contributed by anonymous lesbians. Topics included first awareness of being gay, coming out to family, becoming too committed to a relationship too soon, and the exact opposite through a dating app.
These verbatim segments gave us a sense of the exhausting effort needed to please straights, or their (at times) ludicrously comical ignorance when commenting on gay lives. That there always something sweet to balance the tart shows the thought put into constructing the show.
This awareness also showed itself in musical selections. With a little tweak, Chloe could have a tune like Lou Bega's Mambo #5 convey the life of a fast-moving lesbian. Some unusual arrangements also added interest, such as a cutesy version of The Divinyls' I Touch Myself.
You don't need to know too much history to glimpse the difficulties faced by the LGBTIQ+ community. And sometimes it's just appropriate to get angry about it, such as through a take on Lily Allen's F**k You, where Ruby showed youthful attitude as well as the ability to belt out a tune.
Her vigorous vocals with violin playing in the Charlie Daniels tune The Devil Went Down to Georgia were further highlights. The trio's harmonies were pleasing, and the musical accompaniment by Luke Volkers displayed proficiency with a variety of styles, with a particular twinkle in some tunes borrowing from ragtime.
This is a well-paced, slickly produced show that successfully side-lines some silly stereotypes a general festival-going audience might have about lesbians. The idea of a love story, even if it's a difficult one, is never far from the centre.
It's not just appropriate – as we know, eventually, love always wins – it also ensures the audience leave The Loft at least a little uplifted by the journey of Lesbian Love Stories.
---
Lesbian Love Stories
The Loft – Chapel off Chapel, 12 Little Chapel Street, Prahran
Performance: Friday 27 January 2023
Season: 27 – 29 January 2023 (ended)
Lesbian Love Stories will also be presented 3 – 5 March at The Vanguard, Newtown, as part of Sydney WorldPride 2023.
Image: The Local Lesbians – photo by Joel Devereux
Review: Jason Whyte