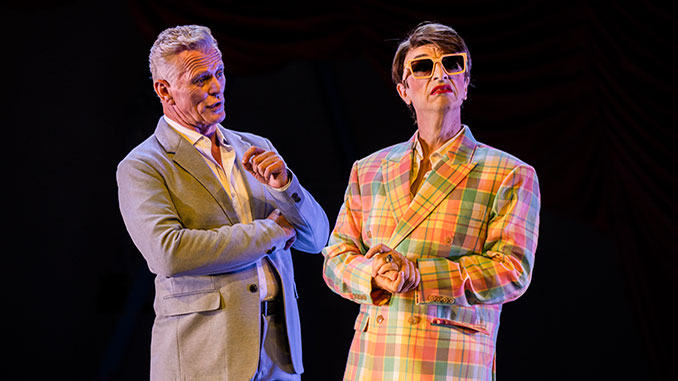 When it was first seen on Broadway in 1983 La Cage aux Folles broke barriers for gay representation by becoming the first hit Broadway musical focussed around a homosexual relationship.
Now, 40 years later, it's no longer provocative, but more a celebration of inclusiveness and family wrapped in one of Jerry Herman's most tuneful scores.
Harvey Fierstein's wicked quips still delight, and his storyline remains surprisingly touching and as presented in this deliciously effervescent production, insures a delightful theatrical experience for the whole family.
La Cage aux Folles tells the story of a gay couple, Georges, the manager of a Saint-Tropez nightclub which presents drag entertainment; and Albin, his romantic partner and star attraction at the nightclub.
Their relationship hits a snag however when George's son, Jean-Michel, the result of a one-night stand some years before, announces that he wants to bring his fiancé and her ultra-conservative parents' home to meet Georges and would prefer that the flamboyant Albin was not around. How this situation is resolved provides the show with its hilarious finale.
The original 1985 Australian production of La Cage played for six months in Sydney before moving on to Melbourne. It famously starred Keith Michell as Georges and Jon Ewing, unforgettable as Albin. Todd McKenney was one of the Cagelles in that production.
McKenney later went on to play Albin opposite Simon Burke's Georges in The Production Company's revival in 2014 – which was only seen in Melbourne.
Remarkably, Sydney has had to wait 37 years for its opportunity to see this show again. But it's been worth the wait, because, finally, after several Covid related postponements, David M. Hawkins with his Showtune Productions has finally got his production on stage, albeit for a pitifully short season, and in doing so, created a small sensation with his superbly cast and performed production.
His trump card is the remarkable Paul Capsis as Albin. Capsis is one of the country's most unique and accomplished performers and this is a role he was born to play.
His Albin is bitchy, difficult, prone to hissy fits, hysterically funny, but completely authentic and magnetic whenever on stage.  It's a performance to relish, although perhaps still a work in progress given the short season.
Capsis is perfectly matched by Michael Cormick who also offers a superb performance as the suave, handsome, unflappable Georges, able to calm Albin's ruffled feathers with his honey-toned baritone with memorable renditions of With You on My Arm and Song of the Sand.
Directed with considerable flair by Riley Spadaro, most of the action for this production takes place onstage and backstage at the nightclub.
Designer, Grace Deacon, incorporated handsome festoon curtaining into her otherwise simple design to achieve a luxurious ambiance. Changes of locale were achieved simply by having cast members whisk furniture and props into place as required.
Raised rostrums upstage accommodated Craig Renshaw's excellent onstage band, leaving plenty of room for the many spectacular dance routines performed with commendable panache and precision by up to nine gorgeously bespangled and bewigged Cagelles which added much of the glitz and glamour.
Noah Mullins captured exactly the right tone of youthful entitlement as well as revealing an attractive singing voice, as Georges' son, Jean-Michel, who's hopelessly besotted with his pretty, wide-eyed fiancée, Anne, charmingly portrayed by Chloe Malek.
Zoe Ventoura brought glamour and a well-tuned sense of humour to her performance as Marie Dindon, the wife of Jane's pompous father, Edouard Dindon, portrayed with obvious enjoyment and appropriate pomposity by Lani Tupu.
Anthony Brandon Wong brought plenty of energy to his interpretation of the household's stage-struck manservant, Jacob, although the decision to costume him in dresses occasionally caused confusion, particularly when he was onstage with Albin also in a dress.
It was also a miss-step to costume Albin in a dress and heels for "Masculinity" because it's impossible to "walk like a man" in high-heels. Therefore the song lost its point and whatever comic possibilities were inherent in Albin attempting to do as he's asked. It also provided the one moment in the show where Paul Capsis appeared to struggle to maintain character.
These quibbles aside, such has been the interest in this production that there is talk that it might tour. It should. Not only because of the performances of Capsis and Cormick, but because there is so much to be enjoyed about this production and the way it has captured the heart of what the show is really about, that it should be seen by the widest possible audience. If it comes your way, don't miss it!
---
La Cage Aux Folles
The Concourse Theatre, 409 Victoria Avenue, Chatswood
Performance: Saturday 4 February 2023
Season: 1 – 5 February 2023
Information: www.lacage.com.au
Image: Michael Cormick and Paul Capsis in La Cage Aux Folles – photo by John McRae
Review: Bill Stephens OAM