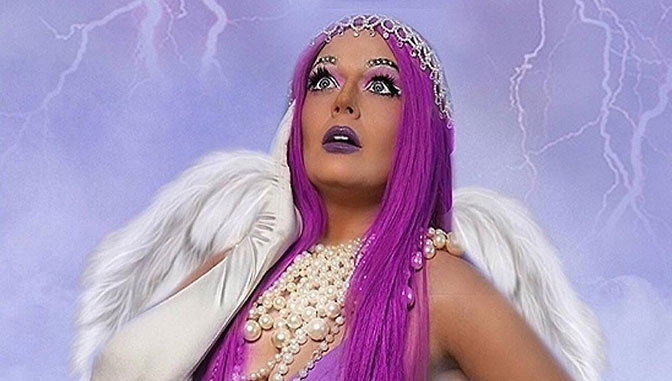 Due to a misjudgement at the tender age of 16, "Activist, witch and queer icon" Juniper Wilde is dead. However, now resurrected, she's appeared to us fans, her Wildelings, to tell us her beastly (yet funny) tale from the great beyond, through wicked cabaret Juniper Rising.
With black, bejewelled bodysuit, and long, flaming-orange hair, Juniper has the look to catch our attention. She certainly knows how to use original songs and physical comedy to enchant an audience.
Juniper's outing at 2021 Melbourne Fringe won Best Work by an Emerging Artist Award (Juniper Wilde: Wilde Night In – Alex Hines), and she's just received a nomination for the 2022 fringe's Best in Cabaret.
This slick show careens from the time of Juniper's demise, to negotiating the underworld, to her appearance here to promote the first record made in hell. She skilfully shape-shifted through a range of characters, giving us a depraved smorgasbord of adventures with a range of afterlife figures.
Somehow, this teenage witch always seems to have a higher gear when it comes to her performance. Juniper's vocal talents shone through songs channeling aspects of modern pop music, addressing vital topics, such as "going viral".
The sound had a bit too much distortion on occasion, sometimes making it difficult to take in all of the rapid-fire lyrics and zingers against pop stars. But, we'd better harden up, because Juniper – and her attack on the patriarchy – stops for no-one.
Director Sarah Stafford deserves credit for ensuring that us newer Wildelings didn't get lost in the blur of activity. Thanks to some clever use of a screen, even if we missed something, we were always tuned in at the start of the next chapter. Some amusingly bizarre video also succeeded in pushing us off balance in new, titillating ways.
If you go Fringing to see the new and different, this se-hex-y–as–hell show from Juniper will get your blood pumping. Beware though, it may leave you, like a soul sucker, hungry for more, straight after the act, to keep the buzz going.
---
Juniper Rising
Trades Hall – Music Room, Corner Lygon and Victoria Streets, Carlton
Performance: Tuesday 18 October 2022 – 8:15pm
Season continues to 22 October 2022
Information and Bookings: www.melbournefringe.com.au
Image: Juniper Rising – photo by Guillym Davenport
Review: Jason Whyte