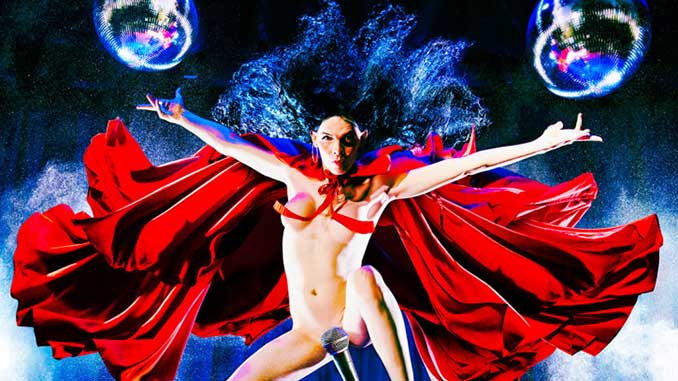 Is it a bird? Is it a plane? No, it's a pun. It's a good one, but it's one that UK artist Jordan Gray still explains in her show Is it a Bird? because it's easy to go with the superhero theme and miss it.
Is IT a bird. It's the "it". Jordan – who is transgender – has been called "it".
We're happy to go with the laughs of how we're cool with Batman self-identifying as a bat, but there's a moment when the "it" drops so heavily that the witty pun becomes a call to action.
A call to action with songs – Jordan is also a bloody amazing musician – about laughing at anyone who questions her.
And stories that twist audience expectations to leave us realising that we might have come to Is it a Bird? with assumptions about her and her show that also need questioning.
Oh, Jordan's as good as she says she is. She says it in song, so it's ok to sing along.
There's rarely a moment to catch a breath as Jordan's intense joy in performing offers an equal sense of safety and fear. It's safe that she loves us and will give us a heart-kicking laugh, but the laugh might be about us as much as about hitler.
She didn't even know that Melbourne nazis have been on the streets and that nailing some hitler jokes is relevant.
Then there's a remarkably astute song about religion that should be sung anytime a prayer is compulsory in a public place, a story about a dog who understood the difference between gender and sex better than most, and an explanation that nobody really wants to fuck Mr Potatohead.
And she saves an audience member by being a superhero.
As most of Melbourne is rightly trying to see Is it a Bird? – the Saturday show has moved to Max Watt's to squeeze more people in. Grab the bragging rights of seeing Jordan Gray before her fame ensures that "it" is never an acceptable pronoun.
---
Jordan Gray: Is it a Bird?
Melbourne Town Hall (Powder Room), Swanston Street, Melbourne
Performance: Tuesday 18 April 2023 – 9.00pm
Season continues to 23 April 2023
Information and Bookings: www.comedyfestival.com.au
Image: Jordan Gray (supplied)
Review: Anne-Marie Peard