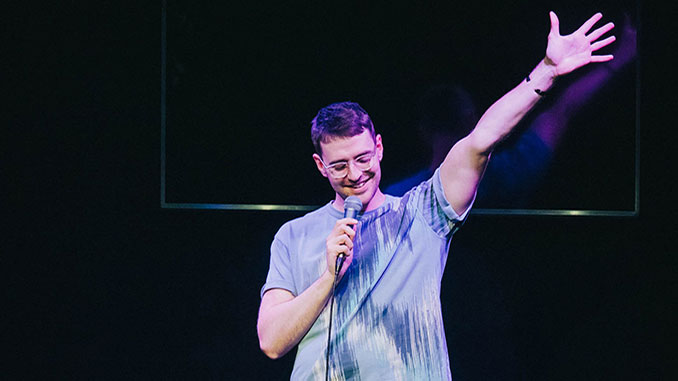 Let's be clear up front: this show is not about suicide in any form. Instead, the death in the title is the death many of us want. The death of the worst self so the best self can emerge.
Regrets? Die and leave them in the past as you're reborn. Glover's starting point is his dedication to his church. He even went as far as getting a Cert III in Christian Ministry.
But being gay and Christian is a challenging road to take. It's one where you don't get a lot of support from your Christian friends. And your gay friends are equally unsupportive.
On leaving his church, he finds his stride and the rest of his show focuses on the perils of modern dating as a gay man and working out how he can leave his mark on the world.
John Glover Must Die is a coming of age in today's gay world. That previous sentence provides enough material for many shows.
Glover had a Lost book (from the TV show) which he used well as a prop for several jokes. But then it's forgotten. If you're going to use a prop often enough that it becomes a character in the performance, it really needs a character arc to close out the "story" in the reader's mind.
John Glover knows his audience are gay men and his comedy targets them. But whether you're gay or straight or somewhere else on the sexuality spectrum, we all want to be our best selves.
And to become our best selves first requires death. We must die.
---
John Glover Must Die
The Vault Theatre – Speakeasy HQ, Mercantile Place, Melbourne (entrance 522 Flinders Street)
Performance: Sunday 2 April 2023 – 9.00 pm
Season continues to 11 April 2023
Information and Bookings: www.comedyfestival.com.au
Image: John Glover – photo by Shane Porter
Review: Daniel G. Taylor