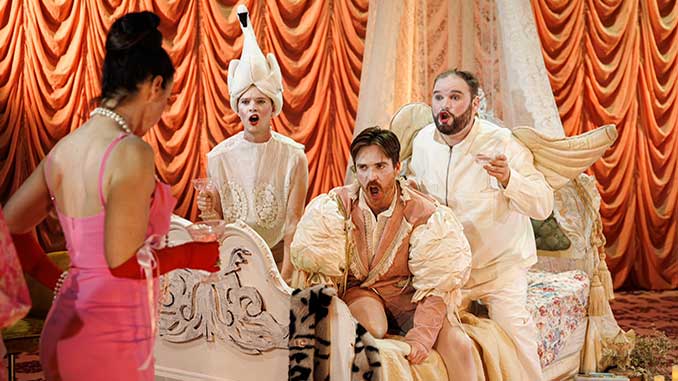 It felt like a long wait for the return of Lyric Opera of Melbourne to the stage following pandemic-related lockdowns and pre-pandemic administrative changes. But they're thankfully back with their first fully-staged opera since theatres reopened. And it's a smashing taste of opera's great value.
Under Lyric's new Artistic Director Patrick Burns, the revival of versatile and acclaimed Australian composer Elena Kats-Chernin's first opera, Iphis, proved to be a smart, sympathetic and inclusive re-introduction to the company's vision that opera should "challenge, engage and inspire artists and audiences alike."
Produced by Suzanne Chaundy and directed by Katy Maudlin, on the surface of what appears playful, whimsical and almost absurd, Kats-Chernin's Iphis is a thought-provoking and instructive work. 
Taking as its source a unique ancient Roman and Greek myth told in Roman poet Ovid's Metamorphoses, Kats-Chernin's rich assortment of musical styling and Richard Toop's easy-talking, witty libretto combine to give, what was myth, marvellous freshness, relevance and reality.
As the story goes, Telethusa is pregnant and her husband Lidgus desperately wants a boy since, crying poor, it will cost too much to raise a dowry if it's a girl.
Telethusa, however, gives birth to a girl – gobsmackingly staged with melodramatic overtures, imagination and respect – but manages to dupe Lidgus into believing it's a boy.
Their child, Iphis, is raised as a boy and, when he/her reaches adolescence, Lidgus sets his sights on marrying him/her to Ianthe, the daughter of wealthy parents.
Can you guess what happens? Iphis and Ianthe fall in love but the gods, who add a cracking good dose of spice to proceedings, are there on hand to answer the calls of distressed mortals.
While Iphis was transformed into a man after Telethusa took Iphis to the temple of Isis to pray for help in Ovid's story, the gods are on hand potently acting as wafting counsellor-like beings in Kats-Chernin and Toop's interpretation. 
In the end, the choice, they say, is for the individual to make which gives a springboard for Iphis to stand up for her true identity even if it means someone dear to her won't change. 
Iphis premiered in 1997 and its place in the theatre needs to be celebrated more frequently and widely. The work simultaneously opens our eyes to the expectations found and the blindness in gender association as well as signalling the issue and importance of youth and gender empowerment. For the LGBTIQ+ community, the work is especially close to the heart.
Maudlin fires up this 70-minute fast-paced work impressively, bringing Iphis to life with insightful flair and cleverly honed and entertaining devices as part of a strikingly dressed production. Time and place are purely theatrical.
A sense of sumptuousness is evoked via a spareness in staging by designer Brynna Lowen and Richard Vabre's juicy lighting. Much of the action occurs around an ornate, veiled and multi-pillowed bed against a hot pink festoon-curtained backdrop that parts for entrances and exits on one side, a platform for the gods the other.
Costumes are fashioned with vividness and humour, with the sum of all creative efforts feeling inseparably fused to the music and libretto. The same applies to the young artists who showed themselves to be a an excellent team of singers and actors.
Douglas Kelly wears the gold metallic boots and puffy-sleeved and ribboned attire with pride and fervour as Lidgus, looking like he's the one responsible for the home's flouncy decor.
Kelly is a stand out, making superb work of the role's demands and utilising his firmly supported muscular tenor for maximum effect while implanting depth in his character's ambiguities. Lidgus is supposed to be poor but no matter how much some have, it is seems never enough. 
Nicole Wallace effortlessly shares the many faces of Telethusa, singing with sweeping penetrating-soprano personality, from obliging to dismissive as a wife and loving and supportive as a mother.
By the way, Telethusa's baby bump is a beautiful rosette appendage and, to add, it's likely no birth on stage has ever been so artfully achieved. 
In the title role, soprano Morgan Carter admirably colours and infuses their Iphis with a mix of duty, self-awareness and questioning. Their Iphis could be the future president in their father's eyes, raised with high expectation but who eventually embarks on cutting through it on a journey to finding their own path.
On the way, a poignant vocal and visual highlight comes in Carter's performance as Iphis wields a dagger at their mother, their anguish palpable in looking for blame. 
There is a chemistry and tenderness Carter shares as Iphis with Breanna Stuart's surprised but undeterred Ianthe that one wishes could be bottled. Together they find their peace in shared love for each other and, accordingly, they are gorgeously harmonised in voice.  
Swan-hatted tenor Timothy Daly and wing-backed baritone Troy Castle take like ducks to water as the two implored gods, their counsel dispensed with comically paired pizzazz and warm, compelling vocals.

To the side, Burns led the music with vivacity and passion. Under Burns' command, Kats-Chernin's adeptness at blending assorted sounds of cabaret, klezmer and operatic strains of Mozart and Stravinsky with delightfully animated expression was zestfully played on Friday night's opening by the 9-musician orchestra. 
If there was anything to quibble at in what was an otherwise stellar return to the stage, it was the sometimes difficult task of really getting the most out of the libretto with some lines lost in the sounds of music-making.
Without opera titles, if only Toop's libretto was at hand to have a good grasp of it, both for pre and post-performance enjoyment. 
Finally, Lyric's Iphis is exactly the type of work that should be recorded and snapped up for broadcast on an arts-focused public television channel. Is that dreaming and too much to ask for? 
---
IPHIS
Theatre Works, 14 Acland Street, St Kilda
Performance: Friday 26 August 2022
Season continues to 3 September 2022
Bookings: www.theatreworks.org.au
For more information, visit: www.lyricopera.com.au for details.
Image: Lyric Opera of Melbourne presents IPHIS – photo by Darren Gill
Review: Paul Selar