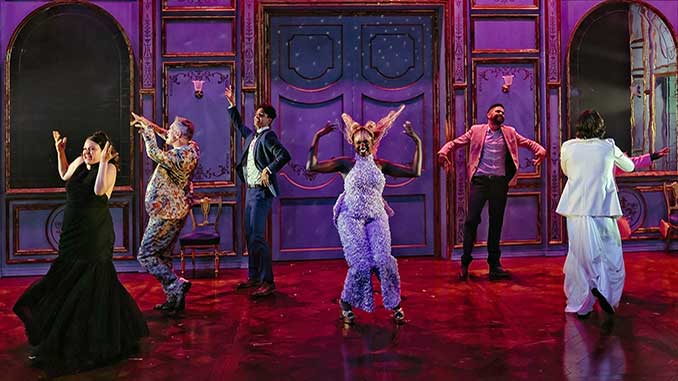 A Queer interpretation of Jane Austin's work could well be a recipe for disaster but Lewis Treston's Hubris & Humiliation is nothing short of Queer theatrical perfection.
Hapless romantic Elliot craves for a simple life – a quaint home, with a loving husband (preferably his best friend Warren) and a fridge that makes ice. What more can a young gay man want in suburban Brisbane.
But soon, one disaster after another leaves Elliot adrift and blinded by the bright lights of Sydney, searching for the most elusive of treasures – a rich gay man to marry.
There really is not much more that needs to be said about Lewis Treston's script, other than it is bloody brilliant.
Treston joyfully cherry picks the campest of Austin's troupes, twisting and weaving them into masterful Queer and contemporary dramaturgy and with such laser sharp focus that you would swear Austin herself had penned this new classic.
The sheer level of research and detail within the text is second to none, and is a commendable feat that elevates the work to its exceptional pedestal.
Dean Bryant's flawless direction ensures that the moments of levity and pathos are given just as much time to shine as the camp and whimsical folly. Bryant's keen eye for the genre is unmistakable – under his guiding hand, everything just works.
Pace, momentum, comedic timing, flourishes of camp nonsense all cleverly come together to quench the hungry and salivating audience, lapping at the bowl for more.
Roman Delo leads the show as our romantically challenged hero – filling the dual roles of comedic powerhouse and worrisome "straight man" with absolute glee.
Henrietta Enyonam Amevor, Mathew Cooper, Celia Ireland, Melissa Kahraman, Andrew McFarlane and Ryan Panizza each in turn bring a powerhouse performance to the stage, with each almost challenging the other to out camp, out over act and out wit each other, which only makes the whole work just all the more brilliant.
Isabel Hudson has created a sumptuous world for the text to live in – gorgeous details and gloriously rich colours act almost as an additional character within the story and deliciously define the work's world of whimsy.
Alexander Berlage's lighting and Mathew Frank's sound designs are a stunning accompaniment to Hudson's designs, working in exquisite symbiosis to add a wild dose of camp sensibility and help to keep the work moving.
If this is the calbre of theatre that Sydney Theatre Company will be offering for 2023, then audiences are sure in for a spectacular year ahead.
---
Hubris & Humiliation
Wharf 1 Theatre – Wharf 4/5, 15 Hickson Road, Walsh Bay (Sydney)
Performance: Saturday 25 February 2023 – 1.30pm
Season continues to 4 March 2023
Information and Bookings: www.sydneytheatre.com.au
Image: Hubris & Humiliation – photo by Prudence Upton
Review: Gavin Roach