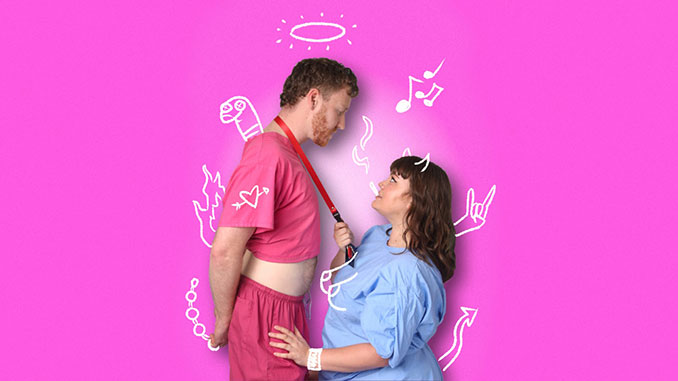 If you're gonna grind through about 500-ish Fringe-event blurbs, you want something to grab your attention with novelty or kookiness. The entry for Hot Fat Crazy – the first show by musical-comedy duo Tommy (Bradford) & Eadie (Testro-Girasole) – has that promise, and their offbeat tale of Eadie's visit to a psych ward delivers in spades.
The show is informed by Testro-Girasole's various visits to real psych wards, she's a larger person, and she sure can sing and dance – HOT! Our heroine wants to show that the terms "hot", "fat" and "crazy" can all exist together, and she is capably supported in this effort by the quick-changing, harmonising Bradford.
It takes a particular talent in writing (aided by snappy direction from Aubrey Flood) to make matters of mental illness into entertainment like this. Slanting the show towards absurdity (the blurb told us there'll be sock puppets!) steers the audience away from potential anxiety about a widespread health issue that "Is not covered by Medicare!" (Maybe the productivity commission could look into that?)
From Eadie's initial confessional entries in her very sassy diary, through to hospital admission, being off the meds and feeling saucy, and treatment given absurd flourishes, the show cracks along, with plenty of surprises and good laughs.
Eadie is a bit messy and looks down on the musical choices of other patients, so we see that she's a real person, with interests and abilities, managing a condition. It can only be a good thing that works like this challenge the dispiriting conventional focus on deficits.
There's a lot of oddball content packed into the show, and some is a touch underdeveloped. This doesn't matter given how the show surges along, the quality of the performers' vocals, and the exuberance of the dance routines.
The show's run ends on Sunday 8 October, and you wouldn't want to be depressed about missing it. Take the chance for a 55-minute Hot Fat Crazy therapy session with Eadie and Tommy, and your smile will probably be as large (if not quite as manic) as Eadie's afterwards.
---
HOT FAT CRAZY
Festival Hub: Trades Hall – Music Room, Corner Lygon and Victoria Streets, Carlton
Performance: Wednesday 4 October 2023
Season continues to 8 October 2023
Information and Bookings: www.melbournefringe.com.au
Image: Thomas Bradford and Eadie Testro-Girasole (supplied)
Review: Jason Whyte