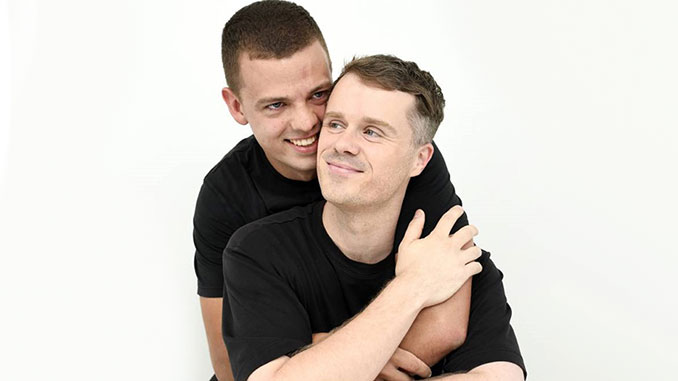 It has taken quite a long time for a production of Queanbeyan playwright Tommy Murphy's break-out play Holding the Man to be given a Canberra production. However, the timing could hardly have been better given the attention on gay relationships as a result of the recent World Pride celebrations in Sydney, and the current streaming by the ABC of a four-part series, In Our Blood, which tells a very similar story.
Tommy Murphy's adaptation of NIDA Graduate, Timothy Conigrave's memoir detailing his 15 year  love affair with footballer, John Caleo, which ended when Caleo died of AIDS, premiered at the Griffin Theatre in Sydney in 2006. The play became the highest-grossing production in Griffin Theatre's 30-year history, and has since won multiple awards and been produced successfully around Australia and overseas.
In Jarrad West's Brechtian production for Everyman Theatre, Joel Horwood gives a brilliantly sustained performance as Timothy Conigrave. Young, flighty and impetuous at high school, not understanding his attraction for the handsome young athlete, but determined to advance it. Then later, more mature and thoughtful about their relationship while keen to explore opportunities for other relationships in pursuit of his career in theatre.
Equally impressive, Lewis McDonald matches Horwood with his insightful portrayal of John Caleo. Firstly, a reserved young athlete, equally interested in pursuing their relationship. Then as the play progresses, as a trainee chiropractor planning on opening a practice, and unwilling to face the possibility of his career being jeopardised by having his sexuality exposed.
How the pair negotiate their relationship among family, friends and the vicissitudes of life forms the grist of the play, which reaches its climax with the inevitable death of John Caleo.
Joe Dinn, Amy Kowalzcuk, Grayson Woodham and Tracy Noble provide admirable support creating the veritable army of family, friends and associates who pass through the lives of Conigrave and Caleo, particularly for their primary characters.
However, one can only wonder if the play would have been more affecting had they dug a little deeper and avoided the temptation to chase cheap laughs by creating caricatures more appropriate to satirical revue rather than relatable characters, particularly in the early parts of the play.
Similarly, given that attitudes towards homosexuality have changed considerably since Murphy wrote this play, his dialogue remains as powerful, uncompromising and confronting as when it was written. One wonders, therefore, at the necessity for the inclusion of unnecessarily explicit business which seemed to detract from the delicacy of the play. The over-long group masturbation scene immediately comes to mind.
Never-the-less, although this production is not as finessed as we have come to expect from Everyman Theatre, with several scenes played on the floor which were invisible to much of the audience, it is still an imaginative attempt to do justice to an important play which, to an audience still battling with a current pandemic, remains a potent reminder of a previous horror which cut a deadly swathe through some of the country's most creative individuals.
---
Holding the Man
ACT Hub, 14 Spinifex Street, Kingston (Canberra)
Performance: Wednesday 23 March 2023
Season continues to 1 April 2023
Information and Bookings: www.thelittleboxoffice.com
Image: Lewis McDonald and Joel Horwood in Holding the Man – photo by Eva Schroder
Review: Bill Stephens OAM