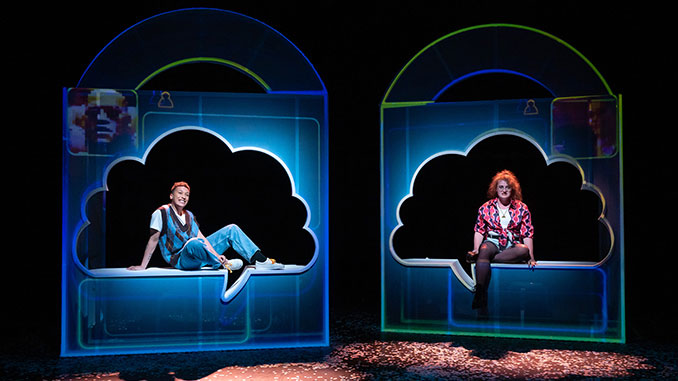 Happy Meal by Tabby Lamb is a wonderful heart-warming and hilarious love letter to social media, trans friendships and the complexities of trust.
Alec and Bette are firm friends – a friendship forged on the ever changing world of online gaming and chat rooms. They bitch, they support, they joke and, more importantly, they accept each others truths and lift up, rather than tear down, qualities often missing in the lives IRL.
Tabby Lamb's writing is extraordinarily reflective of the constantly changing vernacular of young people and online culture. Characters unfold and worlds come to life in a beautiful juxtaposition of the hidden and exposed nature of life online.
Nothing is contrived nor saccharin, with Lamb's skills leaning into the honest and messy musings of youth to give way to the difficulties and barriers navigated by and enforced on trans youth.
Sam Crerar and Tommi Bryson are nothing short of spellbinding and utterly watchable. They each spiral through the life journeys of Alec and Bette, respectively, and deliver performances that are so captivating that you never want them to end.
With each change and shift in the story, they evolve each character's movements and cadence with impeccable subtly and impish cheekiness.
Jamie Fletcher directs the work with a light touch – giving each performer room to play with and react to the audience, as well as each other. The pace is kept fast, but gentle, focusing on the rapidly shifting online platforms to parallel the character's shifting lives.
The design team of Ben Stones (Set and Costume), Daniel Denton (Video), Eliyana Evans (Sound), and Kieron Johnson (Lighting) work in perfect tandem to bring to the stage the complex and clandestine world of online with such artistic simplicity.
The world on stage is fun and protective and caring yet carefree – a wholesome safe haven for young people trying to figure out the world and themselves.
Audiences would be hard pressed not to find something of themselves within the story of Happy Meal, and in doing so, audiences see people who are deserving of so much more than society gives them.
At its core, this work is a must see for those who ever struggled to find their place in the world and is a triumphant call to trans youth, crying out "we see you, and we love you."
---
Happy Meal
Eternity Playhouse, 39 Burton Street, Darlinghurst
Performance: Friday 20 January 2022
Season continues to 22 January 2023
Information and Bookings: www.sydneyfestival.org.au
Image: Sam Crerar and Tommi Bryson in Happy Meal – photo by Wendell Teodoro
Review: Gavin Roach