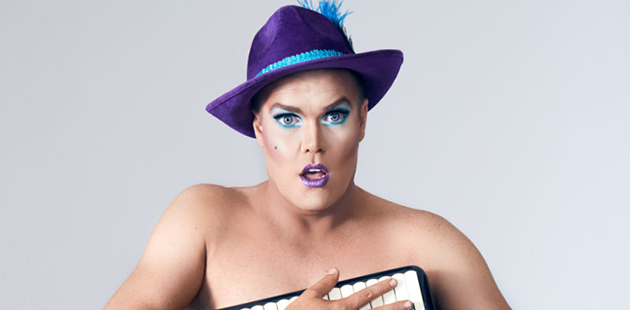 It's not every day that a show comparable to Hans – Like A German comes along. Those (16+) honeys looking for variety at MICF 2019 will find this mix of character comedy, live music, and high-energy dance routines makes for a lively evening, darlings.
Hans explained that his cabaret was better than mere comedy, as it contained more "effort and talent". (He might have a point there.) He must have moved from Germany to Adelaide when quite young, given his limited proficiency with his native language. He's strong on maintaining other cultural traits though, after a fashion. He loves a feathered hat, and is a wiz with the accordion.
You may have seen Hans' fabulous spot on the competition to choose Australia's entry at 2019 Eurovision. Until this recent appearance, I hadn't seen him since a show in a small venue during Adelaide Fringe many years ago. He was a confident performer, inclined to sourness about not yet cracking the bigger venues. His stint on America's Got Talent seems to have fixed that. After playing the (Las) Vegas Strip, Hans found it something of a comedown to play The Coopers Malthouse.
But that's the kind of bitchiness you'll get from Hans. The confidence genie is out of the bottle now as Hans ripped through a version of Club 69's I Look Good and It's Raining Me. He also continued the tradition of regarding his audience darlings with a mix of affection and ridicule, and modelling some outrageous costumes (as always, made by Mutti). Gents in the audience should know that Hans is still on the prowl.
His latest version of backing band, The Ungrateful Bastards played a tight set. We started with Hans' faves from The Sound of Music, coursing through reinventions of Pop like Kylie and Brittany, or barnstorming early Tina Turner.
You might not have always gone to a Hans show for the singing, but there's evolution here. By managing his breath better, he's become a consistently good, even very good performer. Add that to some turbo-charged dance moves and a brisk medley of OZ Rock done polka-style, and Hans deserved his patina of perspiration, as well as the abundant applause.
Hans is not aiming for a show to challenge your intellectual horizons (but there are some nerdy asides) – he just wants to entertain. Based on the reception on this review night, he succeeded gloriously. Danke schön Ungrateful Bastards und Hans, this was a show as boisterous as Oktoberfest!
---
Hans – Like a German
Beckett Theatre – The Coopers Malthouse, Sturt Street, Southbank
Performance: Saturday 30 March 2019 – 8:15pm
Season continues to 7 April 2019
Information and Bookings: www.comedyfestival.com.au
Image: Hans (supplied)
Review: Jason Whyte