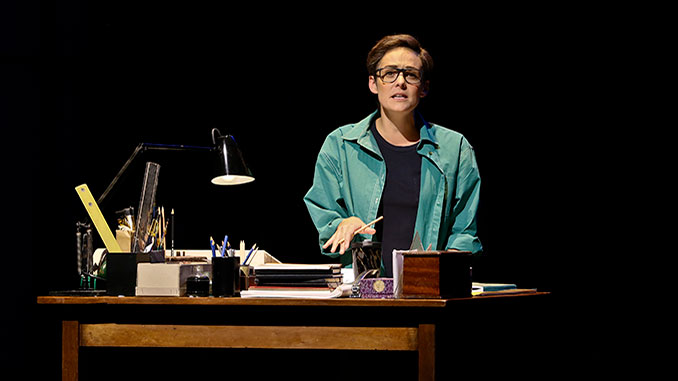 Among its many awards, the original Broadway production of Fun Home won 5 of the 12 Tony Awards it was nominated for in 2015, including Best Musical. For a work jokingly referred to as the "lesbian suicide musical", it's an extraordinarily powerful work and the Melbourne Theatre Company and Sydney Theatre Company's co-production is unforgettable.
Graphic artist and writer Alison Bechdel was once best known for her panel comic series Dykes To Watch Out For. This series is best known for a conversation about choosing a film, which has become known as the Bechdel Test.
When Bechdel was in her 40s and around the same age as her father was when he suicided, she began creating her graphic memoir Fun Home (2006).
Being brought up in the family-run funeral home in a house that was kept like a museum by her unhappy parents is merely the background to her story. Fun Home explores the parallels of her ultimately joyful realisation of her own self and sexuality and her father's hidden sexuality that was defined by self-hatred and secrecy. And it searches for her place and role in his story and death.
The musical adaption, by Lisa Kron and Jeanine Tesori, is as much about trauma, grief and regret as it is about love, forgiveness and joy. And it's a queer story created by queer voices. It's a story with a lesbian at the centre of the story. And she's happy. I wish this wasn't something that even needs discussing, but to see a queer happy woman as the protagonist in commercially successful story is still unusual.
This production was first seen in Sydney last year and is finally in Melbourne, with some new casting. Director Dean Bryant and Musical Director Matthew Frank consistently bring a complex understanding to musicals (including Next to Normal and Sweet Charity) by knowing how singing and dancing are so good at telling dark and painful stories. When emotion is so overwhelming that words aren't enough, music makes the kind of connection that makes the unspoken clear.
In Fun Home everyone sings what can't be said. Heart-dropping highlights include a song about years of humiliating infidelity (Days and Days), one deciding to end a life (Edges of the World), and one reliving the last chance to talk to someone and have answers (Telephone Wire).
But for every moment that is almost too painful to bear, there's one that's full of everything that makes pain bearable. There's falling in love (Changing My Major), feeling protected (Raincoat of Love), and the first time you see yourself reflected in another person and realise that there is a place in the world where you can be yourself (Ring of Keys).
Lucy Maunder is adult Alison creating her memoir. She gently draws us in emotionally as she finds her truth by observing and ultimately stepping into her own memory and exploding in regret, hope and a new degree of understanding. Ursula Searle is Medium (teenage) Alison whose awkward coming out is as gorgeous as we wish all first love and sex could be.
Sophie Isaac was Small (child) Alison on opening night. The heart of the show is Small Alison, as adult Alison remembers the moments that shaped her. Ring of Keys is the best-known song from the show and Isaac brought an original whimsy and unexpected delight that connected with every "I feel …".
Adam Murphy is Bruce (Alison's father) and Silvie Paladino is Helen (Alison's mother). Each let the parent be like their child remembers them until their masks and control drop and each sing about what's breaking them. Their behaviour – some of which remains unforgiveable – is unchanged, but we see it through their eyes rather than through Alison's.
Fun Home is an exquisite piece of musical theatre. It's about some of the worst moments in our lives but leaves you singing with joy and hope. Tickets will be hard to get, so don't wait.
---
Fun Home
Playhouse – Arts Centre Melbourne, 100 St Kilda Road, Melbourne
Performance: Thursday 10 February 2022 – 7.30pm
Season continues to 5 March 2022
Information and Bookings: www.mtc.com.au
Image: Lucy Maunder as Alison in Fun Home – photo by Jeff Busby
Review: Anne-Marie Peard